Art Apart: Re:Locating
Meeting ID: 373 346 2760
Passcode: 8RpEWQ
About the project
Re:Locating, a work in progress by Artist-Practitioner Leelee Oluwatoyosi Eko Davis asks for us to engage with our own needs, consider the needs of others, and to transform our experience of being in community. This work will culminate in K'jipuktuk on Miꞌkmaꞌki, and beyond. Re:Locating comes out of Eko Davis's personal experiences as a result of a sustained Traumatic Brain Injury in 2017. Over the next four months, it will involve solo and collaborative studio intervals, micro residencies, performance, and opportunities for public engagement. Eko Davis will dive deeply to distinguish, create, and examine their own accessible working conditions while consulting collaborators Raven Davis, Lindsay Dobbin, J.D. Derbyshire, Johnny Nawracaj, and those whom they have yet to have met.
1 in 5 people between the ages of 15 and 64 live with a disability. These numbers reflect our society, yet our culture, art, and working conditions rarely reflect the experience or needs of those living with disabilities. Much like our society, most theatre, performance, and gallery-based practices make little to no access accommodations for their Disabled, Deaf, Hard of Hearing, MAD, Neurodivergent, Blind, and Reduced Vision, artists or attendees. A component of Re:Locating is inciting new collaboration and research through a KREAM residency at the Khyber Center for the Arts www.khyber.ca.
---
This project received financial support from the National Theatre School of Canada via the Art Apart program, an emergency fund for emerging artists who are affected by physical distancing due to coronavirus (COVID-19).
About the artist: Leelee Oluwatoyosi Eko Davis- Lead Artist, Choreographer & Multimedia Performer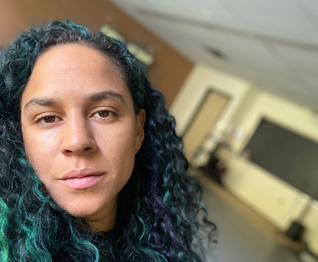 Leelee Oluwastoyosi Eko Davis is a Canadian-born, genderqueer intermedia artist of Nigerian/Algonquin/French descent. Hailing from Winnipeg, Manitoba, they are currently primarily based Halifax. While their practice is rooted in foundations of contemporary dance, in 2010 Eko Davis began exploring the use of different modalities that would complement their movement practice and choreography. Having moved away from traditional dance show models, Eko Davis continues to use these modalities as a theatre maker, and gallery artist. They integrate elements of film, image, projection, movement, dance, voice, music, audience participation and original sound scores. Eko Davis's artistic goals are to merge performance and life, stage and experience, building a bridge to revealing the human experience. Eko Davis also works as a program designer, facilitator, and consultant in the field of Social Innovation and Adaptive Change. 
Posts in the same category