About the Student Shows
An entire season of completely free shows! The programming of the 2022-2023 season will be announced soon. Subscribe to the newsletter and you'll be the first to find out.
The public performances of the graduating class represent the culmination of years of training. Everything seen on stage and all that goes on behind the scenes is created by our students under the guidance of professional guest artists.
Training at NTS is hands-on and practical, which is why it revolves around the reality of creating live performances. Collectively, NTS students create some 20 student shows each year.
Your presence as an audience member is invaluable to the progression of the students on stage and behind the scenes. It's through sharing stories with you that the magic of theatre truly comes to life. 
This page concerns student shows. For other events held at the Monument-National, click here.
For all NTS shows, we are happy to ask you to Pay What You Can. Make an online donation today or deposit the amount of your choice in the identified boxes after the show. Don't forget to book your tickets through the Box Office of the Monument-National.
Pay What You Think design by Jean-Christophe Leblanc (Interprétation, 2019)
Book your tickets!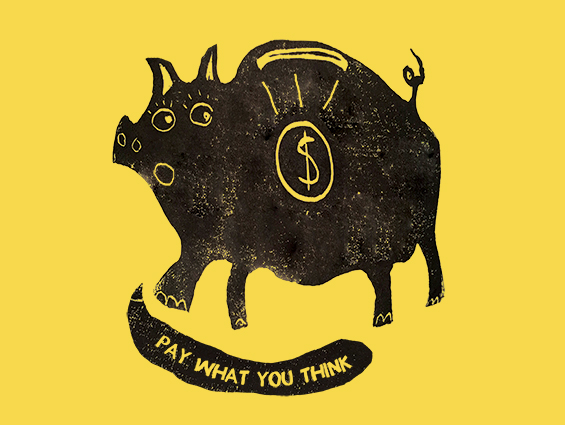 Pedagogy
From the very first day, our training is built in such a way that, at the end of the school year, all the knowledge acquired in the previous years will be translated into a project on stage. The end-of-year project is the culmination of a long process.  It is the final evaluation at the end of our institution's curriculum.
This exercise allows students to test their abilities, knowledge and understanding of the subjects they have been learning for two years, to develop their own language through contact with the work of other students, to conciliate their methods with those of the guest artists and thus, to affirm what they have become and want to be artistically. In addition to learning their craft in each of its artistic and technical facets, they pass on knowledge between classes by working together. It allows the teaching staff to evaluate each student's career path in a highly demanding professional setting. In this way, they can continue to clarify their academic career path and increase their chances of arriving well-equipped in the professional world.

Finally, for students in other years, we consider it essential, in the course of a training program like ours, to be able to see theater. This allows us to situate the works on the syllabus in relation to each other, to decode the different stage vocabularies proposed by the artists who sign the productions and to develop a critical eye in order to find a personal and singular path and to forge one's own thought.  It is a training for the pedagogical exercises they will have to carry out in a not so distant horizon.