NTS is an arts organization more than a school. Our work focuses on the individual artist and the process of self-discovery.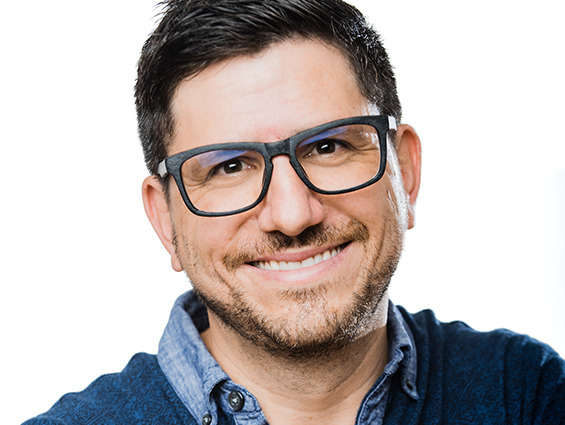 National Theatre School
Photo: Maxime Côté
Gideon Arthurs
Gideon Arthurs is the CEO of the National Theatre School of Canada, the President of the Board of La Serre/OFFTA, sits on the Board of Directors of the Conseil des arts de Montréal, and is a member of the Steering Committee of the Canada Arts Summit. He served as a juror for the 2015 Siminovitch Prize for Excellence and Innovation in Theatre.
Read the bio
National Theatre School
Alisa Palmer
Photo: Maxime Côté

National Theatre School
Caroline Aki Matsushita Guertin
Photo: Maxime Côté
ASSISTANT TO THE ARTISTIC DIRECTOR AND COORDINATOR OF THE ACTING PROGRAM, ENGLISH SECTION
Caroline Aki Matsushita Guertin
514-842-7954, ext. 135
carolineguertin@ent-nts.ca
École nationale de théâtre
Eric Cabana
Photo: Maxime Côté
ASSISTANT TO THE ARTISTIC DIRECTOR OF THE FRENCH SECTION
Éric Cabana
514-842-7954, ext. 118
ericcabana@ent-nts.ca
National Theatre School
Photo: Maxime Côté

National Theatre School
Rose Plotek
Photo: Maxime Côté

National Theatre School
Andrea Lundy
Photo: Maxime Côté

National Theatre School
François St-Aubin
Photo: Maxime Côté

National Theatre School
Jill Tomson
Photo: Maxime Côté
COORDINATOR OF THE SET AND COSTUME DESIGN / SCÉNOGRAPHIE PROGRAM
Jill Thomson
514-842-7954, ext. 130
jillthomson@ent-nts.ca

National Theatre School
Photo: Maxime Côté

National Theatre School
Diana Pavlovic
Photo: Maxime Côté

National Theatre School
Robert Bellefeuille
Photo: Maxime Côté
National Theatre School
Catherine La Frenière
Photo: Maxime Côté

National Theatre School
Julie Duclos
Photo: Maxime Côté

National Theatre School
Miguel Balarezo
Photo: Maxime Côté

National Theatre School
Jean Suzette Stutsman
Photo: Maxime Côté
National Theatre School
Claudine Jacques
Photo: Maxime Côté

National Theatre School
Andreea Bargoveanu
Photo: Maxime Côté

National Theatre School
Michel Rafie
Photo: Maxime Côté
Nationa Theatre School
Stephanie Brody
Photo: Maxime Côté
MANAGER, PUBLIC RELATIONS AND PUBLICATIONS

Stéphanie Brody
514-842-7954, ext. 165
sbrody@ent-nts.ca
National Theatre School
Marie-Ève Rochon
Photo: Maxime Côté
Training and Administrative Support

National Theatre School
Luc Pelletier
Photo: Maxime Côté
National Theatre School
Daisy Lilly Best
Photo: Marie-Ève Rochon
National Theatre School
Richard Bélanger
Photo: Maxime Côté
TECHNICAL DIRECTOR, TRAINING SUPPORT

Richard Bélanger
514-842-7954, ext. 145
dirtech@ent-nts.ca
MANAGER, TRAINING AND ADMINISTRATIVE SUPPORT

Sarah Lachance, In charge of room rental
514-842-7954, ext. 143
admin@ent-nts.ca
National Theatre School
Maude Levasseur
Photo: Marie-Ève Rochon

National Theatre School
Patricia Raynaud
Photo: Maxime Côté
ADMINISTRATIVE ASSISTANT, STUDENT SERVICES / REGISTRATION

Patricia Raynaud
514-842-7954, ext. 134
services@ent-nts.ca

National Theatre School
Yoland Lambert
Photo: Maxime Côté
National Theatre School
Marc-André Perreault
Photo: Maxime Côté

National Theatre School
Anne-Marie Bizier
Photo: Maxime Côté
RECEPTIONIST - SECRETARY

Anne-Marie Bizier
514-842-7954, ext. 0
info@ent-nts.ca
National Theatre School
Isaac Gabet
Photo: Maxime Côté
MANAGER, CAFÉ PAPILLES BONHEUR
Isaac Gabet

National Theatre School
Simon Barry
Photo: Maxime Côté

National Theatre School
Nathalie Fontaine
Photo: Maxime Côté

National Theatre School
Marianne Boudreau
Photo: Maxime Côté
National Theatre School
Photo: Maxime Côté

National Theatre School
Manon Garneau
Photo: Maxime Côté

National Theatre School
Yves Duceppe
Photo: Maxime Côté

National Theatre School
David Jodoin
Photo: Maxime Côté

National Theatre School
Audrey Lee
Photo: Maxime Côté

National Theatre School
Lynda Douville
Photo: Maxime Côté

National Theatre School
Guillaume Simard
Photo: Maxime Côté

National Theatre School
Anne-Marie Fleury
Photo: Maxime Côté

National Theatre School
Bernard Methot
Photo: Maxime Côté
National Theatre School
Marie-France Latreille
Photo: Maxime Côté