Art Apart: Queer Spawn
About the project
"Even though I had great examples at home that went so far against this nuclear heteronormative ideal, I still felt pressure to uphold that shit.  If I didn't, then I had to fully confront my own queerness- and that's a lot to handle at 13." 
"The first time I remember coming out as a queerspawn, I was shocked that my kindergarten class didn't know the detailed intricacies about artificial insemination."  
"I've attended a lot of boring lesbian potlucks in my time.  Eaten a lot of quinoa." 
"You never stop coming out. One time, I came out to an Uber driver and he literally swerved onto the sidewalk." 
---
This project received financial support from the National Theatre School of Canada via the Art Apart program, an emergency fund for emerging artists who are affected by physical distancing due to coronavirus (COVID-19).
About the artist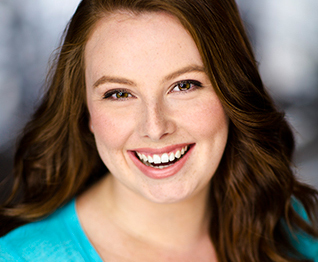 Kira is a queer, feminist, theatre artist whose work is focused on LGBTQ+ representation.  She is a PhD student studying Theatre & Performance Studies at York University where her research focuses on queer performance autoethnography.  She is an alumna of the inaugural writing unit, The Women's Room by Pat the Dog Theatre Creation.  Her show Queer Spawn has been showcased on stages throughout Kitchener/Waterloo, Toronto and Hamilton.  Recent writing credits include:  Under (HamilTEN), Lay to Rest (staged reading, Pat the Dog Theatre Creation), and Futch/ Bemme (OutFest2018 & Gay Play Day Festival). She is also the co-author, with her mom Susan Meyers, of the chapter The Queer Baby Project: Excerpts from the Experiment published in Swelling with Pride: Queer Conception and Adoption Stories.  Select acting credits include:  Dariya in There are No Gays Here (Page1), Alex in Futch/Bemme (OutFest 2018 & Gay Play Day Festival), and Juliet in Romeo and Juliet; Occupy Verona (Theatre Erindale). Kira is committed to creating art that motivates social change and is grateful to Pat the Dog (especially Lisa!) for their continued support with Queer Spawn!  More details at kirameyersguiden.weebly.com or follow on Instagram @kiraasha  
Posts in the same category