Art Apart: Juan, Juana, G'wan-Neetah
Encourage these organizations during the live-stream



About the project
Join Santiago Guzmán on Facebook Live reading of freshly-penned monologues from his new play in development titled 'Juan, Juana, G'wan-Neetah'. 
He will talk about his writing process, how he deals with writer's block, and he will read some monologues that he has written in the past couple of months and will talk about where he'd like to go with this show next. 
About the play 
Juan, Juana, G'wan-Neetah, follows the journey of  Juan, a young Mexican man that has come to Atlantic Canada to pursue a Business Degree. He believes he knows who he is, what he wants, and exactly what his goal in life is (and perhaps to find in a woman the love of his life). Until he discovers the empowerment of stilettos, wigs, make-up, and lip-sync competitions he actually comes to terms with his queer identity as a gay, brown man by becoming a drag queen called G'wan-Neetah La Tina. However, Juan struggles to keep the seeds of his cultural baggage while attempting to fit into his new life and maintaining a relationship with a feminine figure from his past.  
---
This project received financial support from the National Theatre School of Canada via the Art Apart program, an emergency fund for emerging artists who are affected by physical distancing due to coronavirus (COVID-19).
About the artist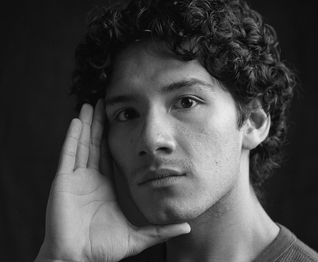 Santiago Guzmán is a performer and writer originally from Mexico City, now based in St. John's, Newfoundland and Labrador. He holds a BFA in Theatre from Memorial University, Grenfell Campus.  

His work as a writer aims to put local, underrepresented narratives and characters on the frontline whilst inviting audiences to appreciate the vibrancy of Newfoundland and Labrador from a diverse perspective.  
His one-man show ALTAR will be part of the Resource Centre for the Arts Theatre Company's 20-21 season and will be touring high schools across Newfoundland and Labrador in the spring of 2021. Some of his plays have been developed with the support of different organizations and festivals outside of the province, like Eastern Front Theatre's RBC Emerging Playwrights Program, Playwrights Atlantic Resource Centre in Halifax, NS, and Paprika Festival in Toronto, ON. 
Santiago is the Artistic Director of 'TODOS Productions: Theatre and Film for All', an organization that seeks to promote, produce, and support work of under-represented artists in Newfoundland and Labrador. Santiago has recently been appointed as the new Artistic Associate for Playwrights Atlantic Resource Centre in Halifax, NS. 
As an immigrant, queer, and artist of colour, Santiago believes that representation matters. 
Posts in the same category