Art Apart: Hex
Hex was performed live on April 10 on Facebook and Twitch. You can enjoy a recording of the performance below. 
About the project

Hex is a multidisciplinary visual performance piece consisting of live projection manipulation of a Montreal apartment's living room wall, set to music played live from Toronto. The performance starts with a real-time reactive VJ set with hand-drawn and digitally crafted 2D and 3D animations, found video, and generative visual effects, and culminates with an explanation of the artists' process and approach to the technology and creativity behind the art. The main concept behind Hex is to connect artists from different provinces in order to create a dynamic, visually interesting piece of live entertainment and isolation art, as well as show the process and technology behind digitally mapping out a 3D space.
---
This project received financial support from the National Theatre School of Canada via the Art Apart program, an emergency fund for emerging artists who are affected by physical distancing due to coronavirus (COVID-19).


About the artists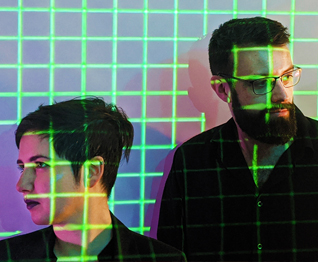 potatoCakes_digital is an award-winning production design and digital arts collective created by Emily Soussana and Andrew Scriver, based out of Tiotia:ke (Montreal, Canada). Officially formed in 2018 with a video design at Osheaga Music Festival, potatoCakes_digital has been unofficially working together for the past five years, designing video, lighting, sound, set, and costumes, as well as production managing and technical directing together on numerous productions for local companies and others across Canada.
The collective's mandate is to create singularly cohesive designs for productions as a whole, taking all choices of all the elements into consideration with one another, and to technically helm and realize these ideas fully from conception to performance. Some of potatoCakes_digital's main interests in the performing arts involve the integration and interrelation of technology and traditional art forms, and the exploration of how visual and digital art can help facilitate and elevate the telling of a story. Emily and Andrew met while studying at the National Theatre School of Canada, in the Set and Costume Design, and, Production Design and Technical Arts programs respectively.
They are joined in this project by their longtime friend, first-time collaborator, Matt Craig, a musician and digital music producer from Toronto, Ontario.
Past credits include:
Skyborn (2019); Kamloopa (2018, SATA Winner for Outstanding Projection Design), John Jacob Magistery - (Osheaga Music Fest, 2018)
Posts in the same category