Art Apart: Gaakaazootaadiwag:  Hide and Seek 
About the project
There is a museum out in the woods, beyond the fog and hum of cicadas, that holds, beyond the fog and hum of cicadas, that holds the stories of items both lost and found. You can only visit the museum if invited but don't stray away from the tour guide or else you might find yourself part of the exhibit. What are the histories behind the items in a Lost and Found box? When these items don't return home, is anyone still looking for them? Are they forgotten or believed to be lost forever? When a person is lost or missing, when do we stop looking for them? Have you ever heard the story about a phone that slipped out of a pocket in Melbourne, travelled with a band to Norway, flew on a plane with friend to Montréal and then made its way home to Toronto? It's a classic, no? Just me? Come to the museum, listen the stories, enjoy exhibit BUT DON'T STRAY AWAY FROM THE TOUR GUIDE.
---
This project received financial support from the National Theatre School of Canada via the Art Apart program, an emergency fund for emerging artists who are affected by physical distancing due to coronavirus (COVID-19).
About the artist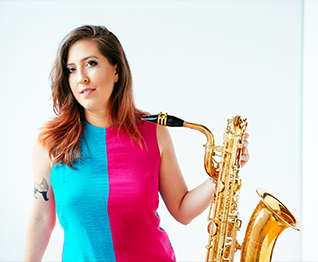 Olivia Shortt (They/she: Anishinaabe, Nipissing First Nation)  is a Tkarón:to-based multidisciplinary performing artist.  They are a saxophonist, vocalist, noisemaker, improviser, composer, sound designer, curator, and producer. 
Highlights for Olivia include their film debut playing saxophone & acting in Atom Egoyan's 2019 film Guest of Honour; their Lincoln Center (NYC) debut with the International Contemporary Ensemble; and recording an album two kilometers underground with their duo Stereoscope in the SnoLAB (a Neutrino Lab in Northern Ontario, Canada). They are a current member of the JACK Studio working with NYC-based JACK Quartet on a composition for the JACK Quartet as well as a musical land acknowledgement for the students of Face the Music program (NYC). 
They have been named a 2020 cohort member of Why Not Theatre's ThisGen Fellowship in Sound Design and recently presented their work 'ishkwe-ayi'ii at Upintheair Theatre's s-Volver Festival and will be presenting it again at The Vector Festival in July 2020.
Posts in the same category