Art Apart: Bread Baby
This project has been presented on Facebook, Friday, April 24 at 7:30
About the project
Experience a new short play by Mark Foster, performed by Lara Lewis. The increasingly less-speculative speculative fiction is a meditation on loneliness, hope, and the desire to become a master baker in the face of global catastrophe.   
  
Join us in this space for the free online premiere of Bread Baby, as theatres have closed in a near-Elizabethan fashion.   
  
Mark Foster: writer/director  
Lara Lewis: performer/producer  
Laura Vingoe-Cram: dramaturge  
 
All activities of Sinking Ship Theatre Creations take place on unceded Mi'kmaw territory.
---
This project received financial support from the National Theatre School of Canada via the Art Apart program, an emergency fund for emerging artists who are affected by physical distancing due to coronavirus (COVID-19).

About the artists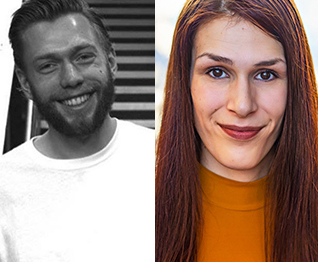 Lara Lewis is a trans person and Mi'kmaw theatre artist based in K'jipuktuk, focusing on dramaturgy and performance. She studied at Dalhousie University's Fountain School of Performing Arts and the University of King's College with degrees in Theatre and Journalism. As a performer, Lara's career began in 2017. She was nominated Outstanding Supporting Actor at the Theatre Nova Scotia Robert Merritt Awards for her role as Valet Girl in Princess Rules. She has worked extensively in the local independent theatre community, including Rollin Bold Productions, Zuppa Theatre, Workshirt Opera, and Terra Novella Theatre. An active member of the local theatre community, she is the vice-chair of the boards of both the Villain's Theatre and The Bus Stop Theatre Co-op.  
 
Mark Foster is a playwright living in K'jipuktuk, unceded and unsurrendered Mi'kmaw territory also known as Halifax, Nova Scotia. Mark is the Playwright-In-Residence of Sinking Ship Theatre and has had plays produced through the company both independently and at Fringe Festivals. Mark's plays include The Waiting Gentlewoman, recipient of the "Outstanding Original Script" award at the Fundy Fringe Festival, Harbourtown, and The Murder Play. Mark is a member of the Playwrights Atlantic Resource Centre, through which he receives generous support. Mark is a graduate of Dalhousie University and a student of Mount St. Vincent University with degrees in Literature and Education respectively.
Posts in the same category