Art Apart: After This
About the project
After This is a show about loneliness, about being alone with yourself — within a community or without. Part audio documentary, part verbatim theatre production, After This is a creative compilation of phone interviews with students, parents, professionals and seniors in Canada and abroad. These interviews were conducted by playwright Katie Clarke in April and May 2020, during the period of social isolation prompted by COVID-19. This theatrical short film asks us to consider what it means to be alone, to be lonely and to be isolated. After This also examines community: its creation, the different forms it may take and how it is sustained. While we are alone, while we stay at home, what does it mean to be in a community? When does a community, or company, become claustrophobic? What does it mean to escape — and where will we escape to?
---
This project received financial support from the National Theatre School of Canada via the Art Apart program, an emergency fund for emerging artists who are affected by physical distancing due to coronavirus (COVID-19).
About the artists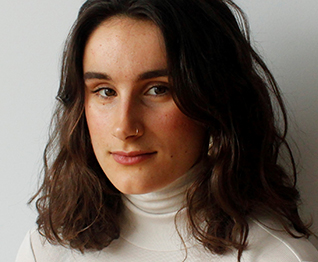 Katie is a playwright and poet living in Halifax. She studies Psychology and Contemporary Studies at the University of King's College as a LORAN scholar. Passionate about women's rights and mental health, she uses poetry and playwriting as a site for social change and difficult dialogue. Katie has written two full-length plays, both of which focus on conflicting narratives of sex, sexuality and identity. Women's Issues, Katie's first play, was staged at the University of King's College in January 2019 and was restaged at Halifax Fringe in September 2019. Her second play, Will You Taste Our Blood, is a feminist re-examination of Euripedes' The Bacchae which addresses hook-up culture, sexuality and sexual violence. Will You Taste Our Blood was first staged at the University of King's College in March 2020. In After This, Katie uses verbatim theatre, documentary audio and film to investigate themes of community, care, discomfort and loneliness.
Benjamin Burchell
Benjamin Burchell is a twenty-year-old Halifax local studying Theatre and Acting at Dalhousie university. This is the second production Benjamin has taken part in under the direction of Katie Clarke with the first being Will you Taste Our Blood; a play in which modern rape culture is juxtaposed with the sexualized cults of ancient Greece. Benjamin made his post-secondary acting debut at the University of King's college with his role as King Aegeus in the King's Theatre Society's production of Medea directed by Adrianna Vanos. Benjamin was initially excited to partake in a production in this format with the circumstances surrounding COVID-19 and hopes to be a part of more unique productions like this one.
Tessa Hill
Tessa is a second-year student majoring in English and Contemporary Studies at the University of King's College and an artist who works in various mediums. Her short films have screened and garnered recognition internationally. During her time at King's, she has gotten involved in the theatre community, acting in a production of Euripides' Medea and Katie Clarke's piece Will You Taste Our Blood. Tessa is very excited to be a part of After This and its vision of pandemic theatre-making!
Adriana Loewen
Adriana Loewen is an actor and director living in Halifax, Nova Scotia. A recent graduate of the Theatre program at Dalhousie University, some of her favourite past projects have been performing in Peter Fechter: 59 Minutes (KTS 2018), Women's Issues (Halifax Fringe 2019), and Concord Floral (DMV 2019).
David Woroner
David Woroner is an actor and director who has worked in theatre and film for several years. David's most recent work includes An Orchid and Other Such Lilies and Lies (BodyCube Art's Collective) at Toronto Fringe and the Atlantic Fringe Festival, Women's Issues (Dir. Katie Clarke) at Atlantic Fringe, Concord Floral (DMV Theatre), as well as many other credits as both an actor and director with The King's Theatrical Society and other independent companies. David has also acted in several films, most recently The Lockpicker (Dir. Randall Okita) which premiered at the Vancouver International Film Festival in 2016. David recently graduated with a joint degree from The University of King's College and Dalhousie University, with a Bachelor of Arts in Theatre Studies with honours, and a minor in the Early Modern Studies Program. David is also starting a Master of Fine Arts in Directing at the University of Alberta this fall.
Jessica Hannaford
Jessica Hannaford is a second year student at the University of King's College. She was very involved with her high school musical theatre productions. She played Little Red in her high school performance of Into The Woods in 2016 as well as Mrs. Corry in Mary Poppins in 2018. Last Year, she was part of the chorus in her university's performance of Euripides' Medea. She also played Clark in Katie Clarke's play, Will You Taste Our Blood. She's very excited to be a part of another one of Katie Clarke's productions!
James Ersil
James Ersil is so excited to be a part of their third theatre project written by Katie Clarke. Previously seen in Women's Issues and Will You Taste Our Blood, they are thrilled to be able to navigate this new theatrical format. An acting student at Dalhousie, they are glad to be a part of any and all theatre during this time of social isolation. They hope that you enjoy After This, and that it brings you some sense of community and comfort.
Hannah Peres
Hannah is entering her fourth year at the University of King's College, where she is studying Economics and History of Science and Technology. She enjoys acting in and viewing plays produced by the King's Theatrical Society (KTS) and was cast in a production of "Him", by E.E. Cummings pre-Covid19 closures in April. This summer, she is spending time biking to Value Village and reading by the ocean. Hannah wants to thank Katie for including her in this project, and for keeping her voice down during the initial phone interviews when they were roommates and she was trying to get a nap in. Thanks Katie!
Moneesha "Misha" Bakshi
Moneesha "Misha" Bakshi is an Indian-American Actor for theatre, film, and voiceover. Originally from Greeneville, Tennessee, Misha has just finished her 3rd year with the Fountain School of Performing Arts, Dalhousie University, where she studies acting as part of her master plan to become a C-list celebrity. Proudly bisexual, and proudly a woman of color, Misha strives to make theatre that reflects the lived experiences or herself and all other marginalized people. Previous Theatre Credits include: EVIL (Halifax Fringe), 5 Lesbians Eating a Quiche (Dal Theatre), Ephemera (FSPA), Onion Play (Villains Theatre).
Marlee Sansom
Marlee is a 20-year-old student currently attending the University of King's College. There she has been involved in many productions with the Kings theatrical society such as Peter Fechter 59 minutes, Hamlet, Puppet Prince of Denmark and Women's Issues. Last year she was involved in her first Halifax Fringe festival continuing her role in Women's Issues, written and directed by Katie Clarke. Marlee is excited for you to see her debut online quarantine theatre performance and hopes you enjoy watching on the comfiest theatre seats yet, your couch!
Keely Olstad
Keely Olstad is an actor/designer/director/wearer of many hats in Theatre and occasionally Film. Recent work includes Little Death (Kings Theatrical Society 2020, Dir.  Daniel Halpern), Hamlet: Puppet Prince of Denmark (KTS 2019, Dir. Jack Smith).
Posts in the same category