Diana Uribe - Teaching Artist, Production Design & Technical Arts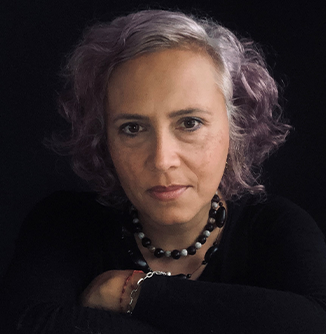 "Like colors stain paper, images stain my mind, which then become the constructions of my hands that design, paint and write; I'm responsible for what I decide to see and for what I create with it."
Diana Uribe is a Colombian theatre designer, plastic artist, interior designer and an eternal child based in Montreal. She has worked for over 25 years in design and arts. In 2000 she moved to the United States where she created, along with 3 fellow Colombian artists, Interrorism, an art movement that denounced violence and injustice in her native country. Fifteen years ago, Diana moved to Canada and found her second home; In 2011, she graduated from the Theatre Design program at The National Theater School of Canada and launched a new career. Diana is interested in the way that theatre reaches people, in the world of possibilities, dreams and change that are inherent to the theatre practice. Her Passion for space and its relationship to humans, and how this affects the body and mind have inspired her work, creating spaces and costumes that evoke a metaphor of our environment. As an artist and a human, she is aware of the imprint that we leave and the importance to engage in the exploration of ecological materials and renewed theatrical practices.
She has had the pleasure of design sets and costumes in both official languages, in 2011 she was invited to represent the National Theatre School in the Czech Republic 2011 Quadrennial in Theatre Design, in 2019 she Received a Meta's Costumes Award for Geordie Theatre's Little Witch. She has been nominated for the Meta's awards in 2014 for set and costume design for Imago's If We Were Birds and in 2020 for the set design of Screaming Goats Collective, Imago Theatre and Geordie Theatre's Persephone's Bound. She has been a regular instructor at the National Theatre School since 2015. Diana has had the good fortune to work with esteemed artists and companies including, Cristina Cugliandro, Tamara Brown, Djanet Sears, Éric Jean, Mike Payette, Yael Farber, Arianna Bardesono, Alan Dilworth, Lib Spry, Charles Dauphinais, Micheline Chevrier, Ravi Jain, the National Theatre School, Teesri Duniya Theatre, l'Atelier Lyrique de l'Opéra de Montréal, Ville de Montreal, Imago Theatre, Black Theatre Workshop, Repercussion Theatre, Théâtre le clou. Some of her recent design work includes: The Dream Project for Yonder Window, Measure for Measure for Repercussion Theatre, How Black Mothers Say I Love you for BTW, Other People Children, Pig Girl, Her Side of the Story, Persephone's Bound for Imago Theatre, Little Witch, In Between for Geordie Theatre, Successions for The Centaur.
Updated: July 13, 2022
Teachers in Production Design & Technical Arts