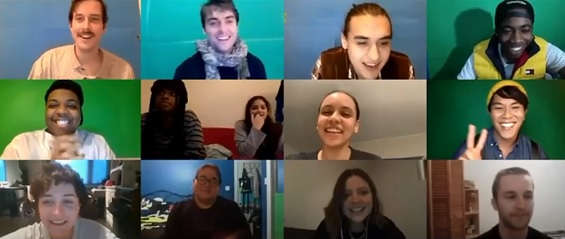 The Game was performed live on Zoom on May 1st and 2nd, 2020. If you missed it, we recorded a performance that you can enjoy here! 
---
Content warnings: alcohol, mention of sexual abuse, and explicit violent language.
New Words Festival: The Game
For every student in the English section, the training culminates with the New Words Festival. The festival showcases two new plays by the graduating playwrights, directed by the graduating directors, performed by graduating students from the Acting program.
The Game was written by Gillian Clark (Playwriting 3, Halifax, NS) and directed by Angelica Schwartz (Directing 2, Winnipeg, MB).
The Game was performed live on Zoom on May 1st and 2nd, 2020. If you missed it, we recorded a performance that you can enjoy. Scroll down to find it! 
---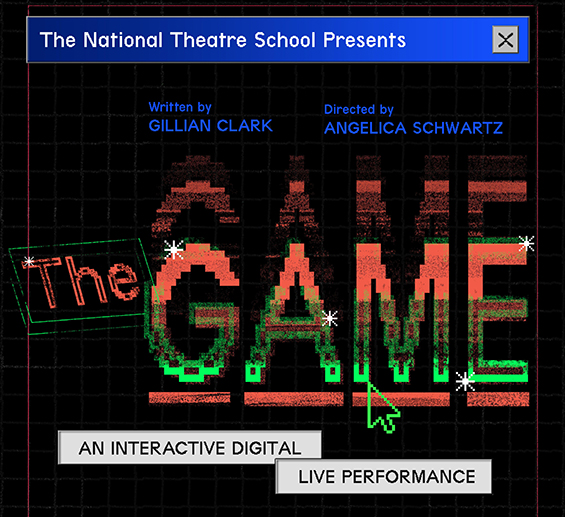 About the play
A sister. A brother. An inescapable bond.
Growing up, Lewis and his younger sister were joined at the hip. It was like they were an extension of each other. Now, Lewis is getting married and his younger sister is having an identity crisis. She has imagined herself as Captain Falcon in the classic N64 game, SuperSmash brothers and she's determined to crash her brother's bachelor party to show him how much she loves him. With Zoom green screens and face filters, The Game shows how far we'll go to be with the ones that we love.
---
Content warnings: alcohol, mention of sexual abuse, and explicit violent language.
Interview with the Playwright
Watch this interview with Gillian Clark (Playwriting 3, Halifax) and Director of the Playwriting program, Andrea Romaldi to learn more about the New Words Festival's play: The Game.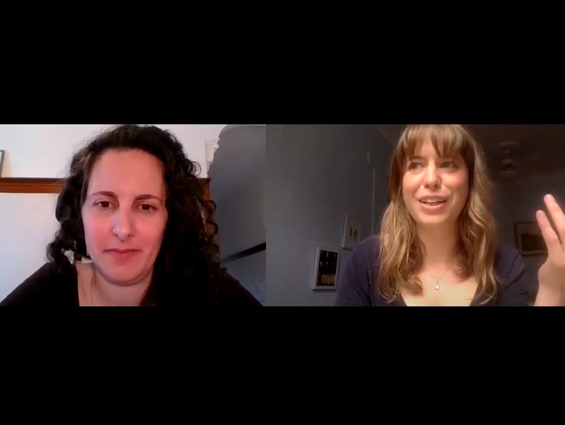 About the New Words Festival
The New Words Festival is the culminating project of the graduating class of the National Theatre School of Canada's English Section. For over a decade, this event has run during the students' final week at the School, just days before graduation. Under ordinary circumstances, students in all five of NTS' core programs work on these two brand-new plays for over a year, before sharing them with a live audience in the Studio Hydro-Québec at the Monument-National.
This year, social distancing measures have forced our campuses to close and students to stay home. But we've decided that the show must go on – online that is. We are so excited to share these plays with you, albeit in a different environment.
In only a few short weeks, the Directing, Acting and Playwriting students have boldly explored what it means to stage these plays in a virtual setting. We are immensely proud of our students for adapting so quickly to the situation. We invite you to experience these innovative new plays and explore what intimacy, spontaneity and togetherness mean in a lockdown digital age.
Angelica Schwartz, Director
Angelica Schwartz is a director and collective creator born on Treaty 1 Territory (Winnipeg, MB), where they founded the performing arts company Happy/Accidents. A recent graduate of The Directing program at The National Theatre School, Schwartz is now based in Tiohtiá:ke (Montreal, QC). Drawing on their background in technical production and their passion for storytelling, Schwartz is devoted to creating an authentic connection between performer and spectator. Whether across distances through online platforms or in the intimacy of live theatrical experiences, Schwartz is determined to create a sense of community in our highly digitalized era. Schwartz aims to trouble the public imagination in terms of identity, queerness, and bodies. In their work, society norms and pressures take a backseat to the complexity of the human condition. Schwartz is invested in highlighting the perspective of the Other, giving an alternative lens on how stories can be told.
While at NTS, Schwartz directed The Game: Zoom Expansion Pack, The Dragonfly of Chicoutimi and Miss Julie. Artistic mentors include Jackie Maxwell, Eda Holmes, Marcus Youssef, Anita Rochon, Julie Fox, Sarah Garton Stanley, Michael Wheeler, Naomi Campbell, Rose Plotek, and Catherine Bourgeois, among others. Schwartz is a Technical Production graduate of Studio 58 in Vancouver, BC.
Upcoming projects: participation in The Green Rooms of The Cycle - Climate Change, an NAC/FoldA partnership; and Haven, which will be presented at FoldA in June.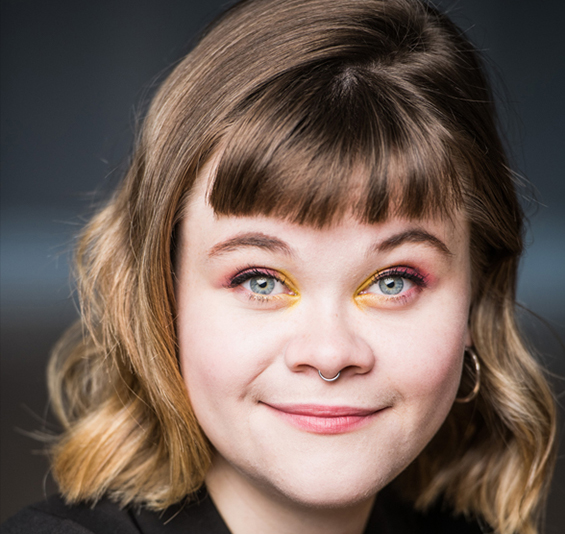 Gillian Clark, Playwright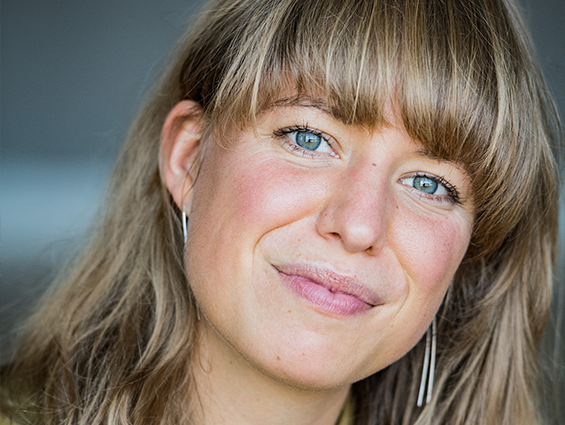 Gillian Clark is a multidisciplinary theatre creator and the artistic co-director of Keep Good (Theatre) Company.  She resides in Tiohtiá:ke/Montreal, with a large part of her heart in K'jipuktuk/Halifax.
Her plays include: Let's Try This Standing, (solo piece and winner of Outstanding Performance at the 2016 Summerworks Performance Festival, Now Magazine), The Ruins (Two Planks and a Passion Theatre), Harmony Mall (Runner-Up for the Playwrights Guild of Canada's 2019 RBC Emerging Playwright Award), and Drums and Organs (commissioned by Dalhousie University for their 2018 graduating acting class). Upcoming projects include Game for the New Words Festival and Adventures with Keep Good (Theatre) Company.
Gillian's work fuses text, spontaneity, and interdisciplinary practices to create experiences that juxtapose intimacy with large-scale theatrical moments. Her practice is committed to shining light in dark places. Gillian values collaboration, innovation, and joyful rigour. Recent collaborators are: Christian Barry, Sarah Elkashef, Erin Shields, Anthony Black, and Ann-Marie Kerr.
CAST
Captain Falcon
Patrick Jeffrey (Acting 3, Long Creek, PEI)

Lewis
Todd Houseman (Acting 3, Edmonton, AB)

Hubert
Drew Moore (Acting 3, Ottawa, ON)

King John
Savion Roach (Acting 3, Scarborough, ON)

Arthur
Talijah Levene (Acting 3, Toronto, ON)

Chat
Ray Jacildo (Acting 3, Toronto, ON / Manila, Philippines)

The Bastard
Michael Bell (Acting 3, North Saanich, BC)
CREATIVE AND PRODUCTION TEAM
COACHES
Directing: Matjash Mrozewski and Rose Plotek, Dramaturgy: Erin Shields, Movement: Rebecca Harper, Voice: Laurel Thomson, Music: Doug Price.


ACKNOWLEDGEMENTS
Margarita Brodie, Nick Carpenter, Eric Dizon, Zach Fraser, Jeremy Gass, Brynn Godenir, Jawon Kang, Adam Lazarus, Erin Loretta Mackey, Alex McLean, Sadie Laflamme-Snow, Joline Rath, Tanner Mason, Zoë Leclerc-Kennedy, Jena McLean, Gloria Mok, Zahra Larche, Eileen Holowka, Preston Schwartz, Erin Meagan Schwartz, Andrea Romaldi, Kalale Dalton-Lutale, Murdoch Schon

Content warnings: alcohol, mention of sexual abuse, and explicit violent language.
Thanks to Hydro-Québec, official sponsor of New Words Festival.

Performances
Friday, May 1st at 8:00 pm
Saturday, May 2nd at 8:00pm
Give
This is an extremely challenging time for students, many of whom will not be able to secure the income they were expecting to earn this summer.
You can help! Make a donation to the NTS Tuition Relief Fund to help offset next year's tuition fees as much as possible. Any funds received will be equally applied to the tuition of each student.