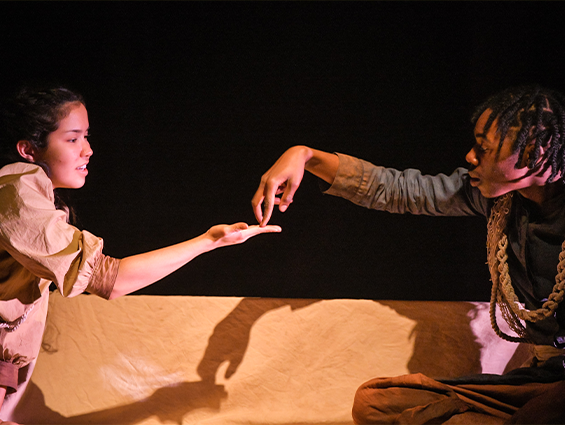 Lobby Attendant(s)
Reporting to the Monument-National Campus Events Manager, lobby attendants are responsible for offering impeccable service to visitors and people passing by the campus. They are in charge of verifying show tickets and are there to help members of the audience throughout their experience at the Monument-National. As representatives of the Monument-National and of the National Theatre School of Canada, they will receive guests with remarkable hospitality and provide them all the information they need.
Apply now!
The Challenges
As a member of our team, the successful candidate will:
Support the different areas of daily activities at the Monument-National campus through a variety of tasks;
Participate in our constantly changing, innovating production processes, and to contribute to the creation of new projects;
Maintain honest and open communication paths within the organization, in order to create cohesion and work efficiently;
Participate in group efforts to build a safe and inclusive professional environment;
Share the opinion that theatre brings people together, and creates opportunities for individuals to imagine, think, and feel, collectively.
Responsibilities
As a member of reception staff, lobby attendants are called to fulfill several functions such as that of usher, cloakroom attendant, doorperson, box office attendant, receptionist, and bartender.
They will also be called to:
Verify show tickets using the terminal.
Prepare and clean up workspaces and show venues if needed.
Supervise the audience and ensure respect of production rules and health and safety regulations; intervene in case of unwanted behaviour.
Other related tasks may be added to this list.
Profile
Ability to work uninterruptedly for 4 to 5 hours.
Ability to lift items of at least 10 pounds (move furniture, lift sandbags and pick up objects from the floor).
Ease working at heights (ex: at the second story of the main show room).
Good sense of customer service.
Ease working with all types of personalities and behaviour encountered in such an environment.
Oral mastery of English and French.
Sense of rigor, diplomacy and judgment.
Reachable by email and phone.
Four core values guide our work and actions and reflect the spirit of professional and personal relationships at the National Theatre School: collaboration, transparency, flexibility, and customer service.
This position involves a variable work schedule, to fit the School's scheduled activities.
Application
Please send your CV and motivation letter to jasminlouisseize@monumentnational.com
We thank all applicants for their interest, however only those candidates selected for interviews will be contacted.
We are committed to providing a workplace that is inclusive and accessible to all and believe in the right to employability. That's why we support accessibility and employment equality; we encourage people of all ages, genders, sexual orientations, and ethnicity, as well as Indigenous people, people with disabilities, and people of colour, to apply.
Apply today!