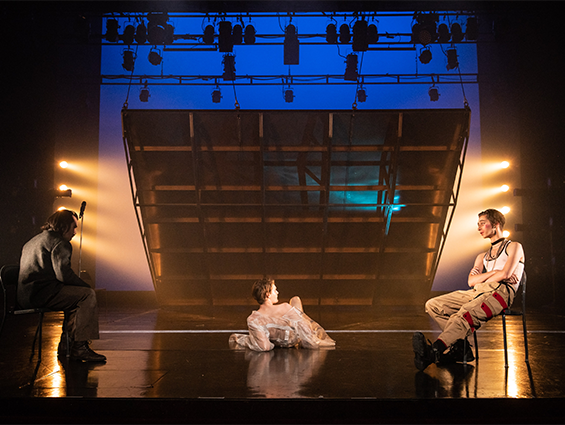 The Monument-National is a place in full evolution energized by the presence of NTS students. The ideal candidate is expected to provide exemplary and rigorous service to external clients while making sure to communicate the institution's new pedagogical values. The candidate will also be called upon to guide and transmit his knowledge to students who will have to go through an intense training in order to assimilate the inner workings of the performing arts professions.
This job offer is closed
The Challenges
By joining our team, you will be called to:
Participate in our constantly changing, innovating production processes, and to contribute to the creation of new projects;
Maintain honest and open communication paths within the organization, in order to create cohesion and work efficiently;
Participate in group efforts to build a safe and inclusive professional environment;
Share the opinion that theatre brings people together, and creates opportunities for individuals to imagine, think, and feel, collectively.
Responsibilities
Support the Head Stagehand in recruiting new staff according to technical needs
Receive, plan, and organize work and tasks distributed by the Head Stagehand
Oversee the smooth running of set-up and take-down for events, activities, and shows according to the schedule drafted by the Head Stagehand
Be in charge of inventory, warehousing, and annual or routine maintenance of departmental equipment
Ensure full and open communication at all times
Respect, and at all times apply standards and regulations regarding work health and safety
Respect and apply internal policies and procedures to maintain a healthy, respectful, ethical and professional work environment
Inform the Technical Director of any lacking stage equipment
Represent the Monument-National campus and the National Theatre School by offering an outstanding service to all our internal and external clients
Participate in organizational meetings, at both the Monument-National and the Saint-Denis campuses
Perform any other related task
Required Qualifications
CEGEP diploma in theatre or show production, or equivalent work experience
Five years of experience in a similar position
Ease mastering new technology
Broader view and holistic perspective of structures
Excellent leadership skills
Pedagogical spirit and good interpersonal skills
Flexibility and solution-oriented, positive attitude
Independence and proactiveness
Good communication skills and ability to vulgarize
Ability to adapt and to work under pressure
Written and spoken mastery of French and English
Knowledge of Office Suite, an asset

Knowledge of QLab, an asset

Knowledge of Autocad, an asset

Knowledge of VectorWorks, an asset
Application
This job offer is closed
We are committed to providing a workplace that is inclusive and accessible to all and believe in the right to employability. That's why we support accessibility and employment equality; we encourage people of all ages, genders, sexual orientations, and ethnicities, as well as Indigenous people, people with disabilities, and people of colour, to apply.