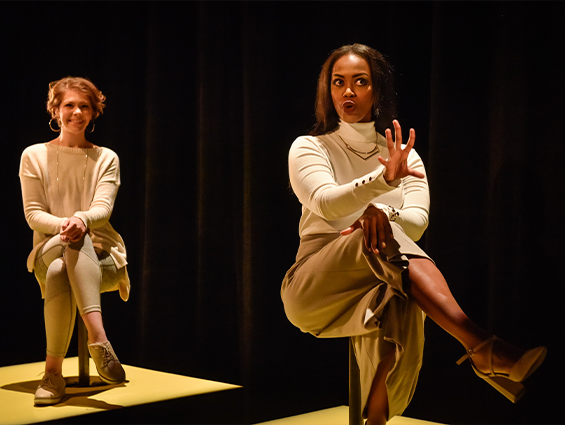 Events Manager
Cheerful, organized, and very conscientious, the Events Manager is in charge of managing the venues of the Monument-National campus. They are responsible for the general appearance of the public spaces used for the productions and presentations of NTS student shows, shows from outside NTS and the hosting of corporate and media events.
Apply today!
The Challenges
As a member of our team, the successful candidate will:
Participate in our constantly changing, innovating production processes, and to contribute to the creation of new projects;
Maintain honest and open communication paths within the organization, in order to create cohesion and work efficiently;
Participate in group efforts to build a safe and inclusive professional environment;
Share the opinion that theatre brings people together, and creates opportunities for individuals to imagine, think, and feel, collectively.
Responsibilities
Under the supervision of the Logistics and Customer Experience Manager of the Monument-National campus, the Events Manager is responsible for the organization of the lobbies and halls of the various performance spaces. They also supervise the front of house personnel and the management of the bars.
Primary responsibilities:
Supervision of front of house personnel
Ensure the synergy of the various work teams;
Maintain a warm and proactive work environment;
Ensure that the staff provides dynamic and courteous customer service;
Assign respective duties to the reception team (greeters, ushers, cloakroom and door attendants);
Inform the staff of any instructions specific to current shows or events;
Ensure that the dress code is respected.
Bar Management
Assist in logistics related to bar operations (opening, service, closing, inventory);
Logistics
Ensure follow-up with producers and spectators by addressing their questions and needs;
Ensure the smooth running of events and shows;
Ensure the setup and takedown of furnishings in the venues;
Ensure the setup, takedown, and maintenance of the lobbies and halls;
Direct clients and subcontractors, as needed;
See to the necessary signage in the various areas;
Ensure proper opening and closing of the performance venues;
Ensure the smooth circulation of the public during events and shows;
Assist in the implementation of orientation and training strategies for the front of house personnel;
Make sure that the established standards, rules, and protocols of the various performance spaces as well as the foyers and lounges are respected;
Other related duties may be added to the job description.
Profile
The incumbent will demonstrate strong customer service and organizational skills in a context where teamwork, adaptability, and an ability to propose and implement new work methods are in constant demand.
Proven experience in a similar position, with demonstrated success;
Bilingual in English and French (oral and written);
Punctual with a sense of responsibility;
Strong organizational skills and an ability to set priorities and meet deadlines;
A flair for customer service, a keen sense of judgment, diplomatic, amiable, tactful, with good stress management skills;
Leadership, empathy, integrity, a positive and forward-thinking personality;
Strong aptitude for teamwork with an openness to others and diverse ideas;
Excellent interpersonal skills along with initiative, problem-solving skills, sound judgment, creativity, thoroughness, diplomacy, autonomy, integrity, resourcefulness, and a good sense of humour;
Good knowledge of Tuxedo software is an asset.
This is a casual position with flexible working hours based on activities and performances.
Application
Interested by the challenge and want to join our energetic and engaged team?
If you are interested in this position, please submit your CV, along with a cover letter describing what makes you an ideal candidate, by email to cv@ent-nts.ca.
We are committed to providing a workplace that is inclusive and accessible to all and believe in the right to employability. That's why we support accessibility and employment equality; we encourage people of all ages, genders, sexual orientations, and ethnicity, as well as Indigenous people, people with disabilities, and people of colour, to apply.
Apply today!