Director - Indigenous Perspectives
As part of its ongoing commitment to diversity, inclusion, truth and reconciliation, the National Theatre School of Canada (NTS) and the Indigenous Advisory Circle announce a call for applications to fill a new key position within the School.
The Indigenous perspectives director will work closely with the Indigenous Advisory Circle, the teaching and administrative teams, the Center for Arts and Social Innovation (CASI) and community partners to develop innovative initiatives that reflect the School's core values and the needs of Indigenous communities.
Reporting to the CEO and working in close collaboration with the Indigenous Advisory Circle, the Director - Indigenous perspectives will develop collaborations both within the School and externally, in order to better integrate and foster the Indigenous theatre of tomorrow.
---
As a new role in our institution, you'll have the opportunity to shape it in alignment with your personal history and skills. We also offer leadership training and support for professional development.
---
For instance, this person might be asked to:
Actively contribute to the creation of a welcoming and inclusive environment for students and staff from Indigenous communities.
Act as a positive leader in the cultural evolution of NTS so that the School becomes a preferred learning institution for artists who identify with First Nations, Métis or Inuit communities.
Communicate the importance of Indigenous creative expression and help NTS communities evolve towards positive change.
Manage the Indigenous artists-in-residence program, in close collaboration with the pedagogical teams.
Provide support for the evolution of the new "New Pathways" program, as well as other pedagogical initiatives.
In conjunction with Executive Artistic Directors, Program Directors and pedagogical teams, oversee the implementation of Indigenous perspectives in educational curriculum.
Work in direct collaboration with NTS's Centre for Arts and Social Innovation (CASI) to develop activities and support the creation of alternative programs.
Support efforts to recruit Indigenous students in communities across Canada by sharing your knowledge and experience of the realities of Indigenous communities in Canada.
Collaborate with the CEO and others involved to further the implementation of NTS's Anti-Racism and Decolonization Action Plan and other initiatives to provide cultural frameworks integrating knowledge, systems and initiatives to support NTS's commitment to reconciliation and Equity, Diversity and Inclusion (EDI) matters.
Contribute to the development and implementation of NTS strategic objectives and activities in partnership with the Indigenous Advisory Circle, Executive Team and Board of Directors.
Collaborate and participate in important events throughout the school year, such as the annual welcome ceremony /Ohen:ton Karihwatehkhwen, Indigenous Advisory Circle activities and other significant events.
Any other related tasks.
In partnership with Human Resources, ensure the incorporation of Indigenous perspectives into internal policies and management practices for the entire staff.
Organize monthly meetings with the Indigenous Advisory Circle to maintain current Circle initiatives and seek advice on developing initiatives.
Along with Student Services and the Indigenous Elder-in-Residence, provide support to Indigenous students as they move through the NTS, while ensuring that the interests of students and staff from Indigenous communities are upheld.
Build efficient work relationships with local and national Indigenous institutions.
Act as a prominent ambassador of NTS for Indigenous persons within and outside the School, including speaking engagements, convening advisory groups, etc.
Ideal Profile
Knowledge and experience of the realities of Indigenous communities in Canada.

Knowledge of the performing arts sector in Canada

Understanding of the development of policies and experience in advocacy and activism around Indigenous matters, especially the intersection with predominantly colonial institutions.

Creative and proactive person with the ability to bring up innovative ideas.

Ability to coordinate and learn quickly.

Ability to communicate and work in an official language, bilingualism or proficiency in a third language being an asset (NTS will assist the candidate in developing French language skills, if required.
What we offer
 competitive salary with an agile work schedule.

A caring, dynamic and motivating work environment.

A generous number of vacation days, plus two weeks paid vacation during the holidays, with bonus statutory holidays.

A comprehensive group insurance plan, employee assistance program and telemedicine.

The privilege of daily contact with a dedicated team, exceptional artists from across Canada and over 170 talented students - all in a bilingual, diverse and inclusive workplace!
Throughout our recruitment process, we strive to offer a human-centred approach,
acknowledging that each candidate is an individual with a unique story, exceptional skills
and potential to be discovered. Placing respect, communication and empathy at the heart
of this approach, we seek to ensure that each person feels heard, valued and understood
throughout the process.
Anonymized evaluation
The first stages of candidate evaluation are carried out anonymously to minimize unconscious bias.
Structured interviews
Shortlisted candidates are invited to take part in structured interviews conducted by a diversified recruitment committee. The questions are designed to assess skills, experience and cultural fit.
Interview - representative group
Finalists will be invited to participate in an interview with a panel of representatives from Indigenous communities and from under-represented groups. The objective is to assess cultural fit and the ability to work in an inclusive environment.
How to apply?
Please indicate your interest in the position by contacting Camille Friedrich, Associate Director of Human Resources: cfriedrich@ent-nts.ca
We thank all applicants for their interest, however only those candidates selected for interviews will be contacted.
Apply now!
Our school
Our community of 70 employees, 200 students and over 300 collaborators are engaged in creating the future of theatres across Canada.
We believe that process is more important than results. Home to nine professional programs plus a Center for Arts and Social Innovation, our facilities are located in two campuses: the Saint-Denis campus and the Monument-National campus.
Within this ecosystem the Indigenous Advisory Circle is a group of Indigenous artists from First Nations, Inuit and Métis communities, influences and reinforces the School's pedagogical methods, weaving in an Indigenous perspective of the world.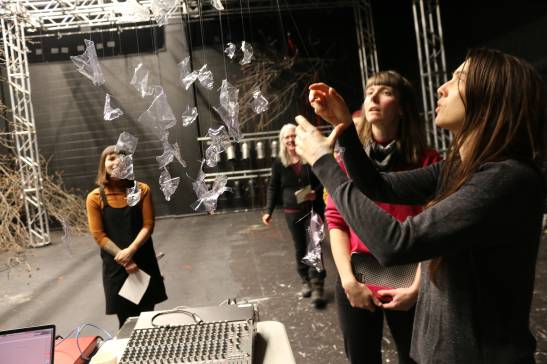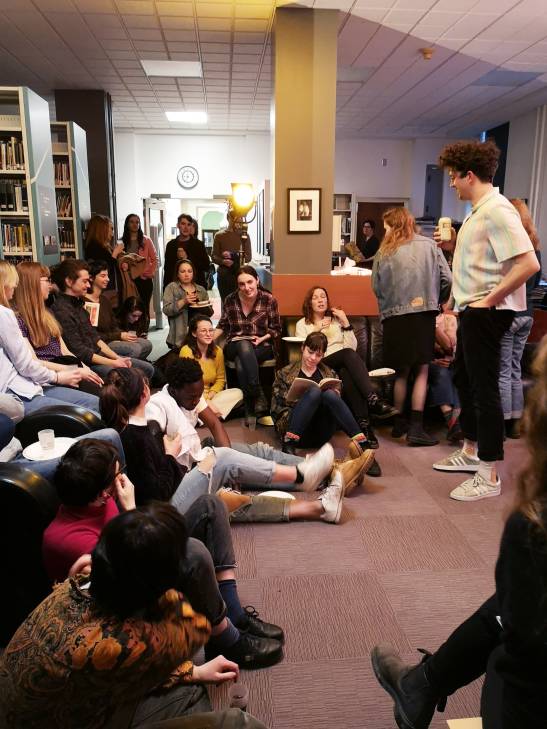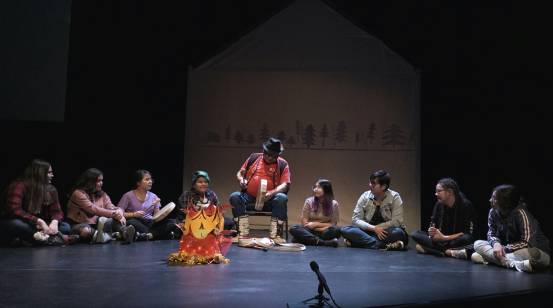 The National Theatre School of Canada (NTS) believes in employment equity and is committed to providing a workplace that is inclusive and accessible to all. For NTS, it is imperative that the diversity of our community be reflected in our staff, who must likewise be comfortable working with and for people of all walks of life. We strongly support the right to employability and greatly encourage applications from Indigenous people, people of colour, and those of all other ethnic and cultural affiliations, regardless of age, gender, sexual orientation, and disability.