The National Theatre School of Canada (NTS) is seeking a dynamic and highly motivated individual to execute various special projects for the External Relations Department, particularly in communications, promotional campaigns and ticketing. The candidate will work closely with the Campaign and Digital Content Manager, the Centre for Arts and Social Innovation (CAIS) and the teaching team.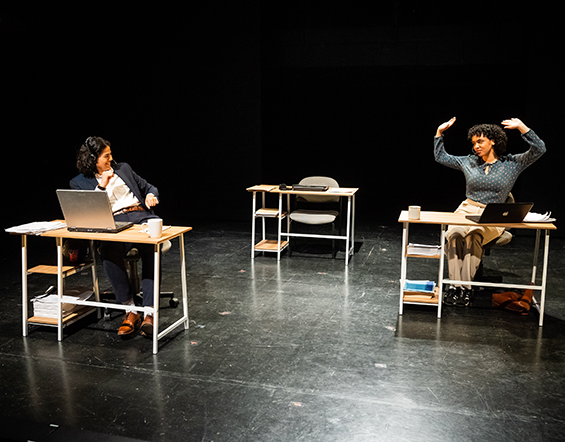 As a member of the team, the candidate will:
Participate in ongoing changes and be actively engaged in the implementation of innovative processes;

Practice open communication allowing for a collaborative and effective work environment;

Participate in the team's efforts to build an inclusive and caring professional space;

Shares the idea that theater brings people together and allows them to imagine, think and feel collectively.
General tasks
Participates in the implementation of a communications and outreach strategy for NTS;

Provides support for the writing and dissemination of digital content, particularly for the website and social media;

Coordinates communications for each student show;

Responsible for the recording of shows for livestream on our platforms:

Ensures regular follow-up with external consultants (graphic designers, translators, etc.);

Coordinates all special projects, such as events, annual reports, photo shoots, holiday cards, and any other projects;

During the summer, develops a communication strategy for the promotion of the partner festivals' shows (in conjunction with the communication departments of each festival);

Manages, transmits and coordinates requests related to all activities specific to the CAIS that have an impact on the direction of External Relations.

Follows up on all internal communication requests;

Any other administrative or related duties may be added to this description.
Ticketing operations
Performs software updates and liaises and maintains relationship with ticket vendor;

Participates and implements fundraising initiatives, data collection, contact management in relation to ticketing;

Responsible for maintaining relationships with rental companies according to the contract with NTS;

Schedules tickets for all NTS events in collaboration with internal agents and rentals;

Runs the box office and produces reports at the end of each show for all ticketed events.
Profile
Demonstrated experience in a similar position;

At least 2 years experience in e-commerce or ticketing (knowledge of Tuxedo software an asset)

Strong sense of organization and priorities (ability to develop and meet tight deadlines);

Basic knowledge of social media management;

Knowledge of email management software;

Resourcefulness, curiosity, quick learning;

Creativity, autonomy and ease of communication;

Bilingualism, spoken and written;

Known software: Office Suite (Excel and Word), Photoshop (intermediate), Mailchimp;

Comfortable using social media and its various tools: Facebook (Insights, Events, Ads), Twitter, Hootsuite, Instagram (Stories, statistics), Youtube, TikTok, etc;
What we offer
A caring, dynamic and motivating work environment; 
A competitive salary with an agile work schedule; 
An advantageous number of vacation days, plus two paid weeks during the holidays, with statuary holidays are honoured; 
A comprehensive group insurance plan, employee assistance program and telemedicine;  
A very advantageous defined benefit pension plan; 
A free parking space at the Saint-Denis pavilion; 
The privilege of working daily with a dedicated team, exceptional artists from across Canada and over 170 talented students; all in a bilingual, diverse and inclusive work environment!
How to apply?
If you are interested in this position, please submit your CV, along with a cover letter describing what makes you an ideal candidate, by email to cv@ent-nts.ca
We thank all applicants for their interest, however only those candidates selected for interviews will be contacted.
We are committed to providing a workplace that is inclusive and accessible to all and believe in the right to employability. That's why we support accessibility and employment equality; we encourage people of all ages, genders, sexual orientations, and ethnicity, as well as Indigenous people, people with disabilities, and people of colour, to apply.
Apply now!