The National Theatre School of Canada (NTS) is seeking a dynamic and highly motivated individual to be in charge of fulfilling the objectives related to public funding activities. The candidate will work closely with executive management, the executive committee and various stakeholders within and outside of NTS to fully understand the implications of grant applications.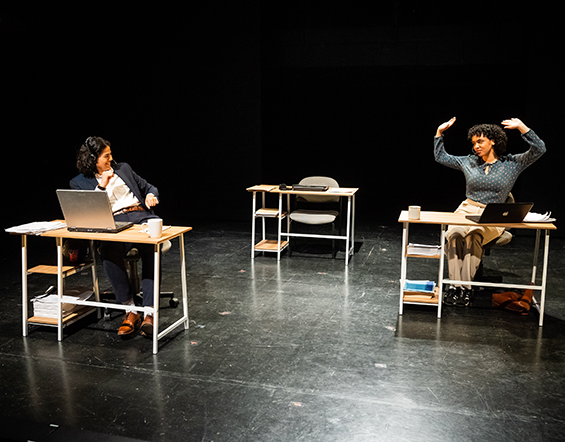 Reporting to the Chief of External Relations (ER),
They will be asked to research and gather information for public funding applications and reports. They will play a central role in maintaining and developing public funding strategies for both general NTS funding applications and special project funding. They will also support the NTS executive management in the area of government relations. This person will be responsible for the sound management of the portfolio of relationships with public funders and various levels of government ensuring the strategic positioning of NTS and the achievement of its financial objectives. 
As a member of our team, the successful candidate will: 
Participate in the ongoing evolution of the School and be involved in the implementation of innovative processes;

 
Contribute to maintaining open and sincere communication within the team to promote cohesion and efficiency effectiveness;

 

Participate in the team's efforts to create an inclusive and caring work environment;

 

Adhere to a vision of theater as an art form that brings people together and allows them to imagine, think and feel collectively.

 
Public Funding
Prepares and writes all grant applications and associated reports;

 
Performs research for all government grants necessary to operate NTS and to complete school and special projects; 

 
Keeps a detailed grant calendar that includes all deadlines and milestones: submission dates, implementation of effective data collection procedures, reporting, follow-up, etc; 

 
Builds relationships and works with program leaders to identify collaboration and partnership opportunities that can contribute to the development and/or positioning of the School, while ensuring that the secured grants are properly allocated and funds are used in a timely manner. 

 
Supports the External Relations management in the planning and architecture of grant applications. 

 
Ensures the design, writing and implementation of public funding strategies aligned with the School's positioning for obtaining and maintaining funds in accordance with the provisions and grant agreements of each governmental level. 

 
Government Relations
Coordinates the implementation of the government relations strategy (objectives, tactics, actions, resources, timelines and deliverables) in accordance with communications plans developed by the External Relations department, the internal communications team and by external consultants and/or other partners; 

 
Monitors and reports to the School on municipal, provincial and federal developments, appointments and other changes that may affect NTS activities. 

 
Contributes to the advocacy of NTS with the public service and political staff responsible for the implementation of these programs. 

 
May be asked to act as a spokesperson for NTS with government partners.

 
Profile
2-3 years of public and private fundraising case management experience in a similar position with demonstrated success.

 

 

Experience in government relations.

 

 

Excellent French and English language skills with exceptional oral and written skills.

 

 

Excellent project management and organizational skills, and the ability to work on multiple projects simultaneously with varying requirements and priorities.

 

 

Demonstrated understanding of the philanthropic sector and ability to work with stakeholders;

 

 
Ability to research, collect and analyze information.

 

 

Ability to prepare simple financial reports, analyze data quantitatively and qualitatively and synthesize results.

 

 

Skilled at prioritizing, meeting deadlines and exercising good judgment, thoroughness, diplomacy.

 

 

Experience with DonorPerfect or similar software.

 

 
This position is permanent full-time at 35 hours per week, Monday through Friday, and occasionally requires after-hours attendance. Possibility of telecommuting 2 days per week. 
Benefits of the position
What we offer: 
A caring, dynamic and motivating work environment;

 

A competitive salary with an agile work schedule;

 
An advantageous number of vacation days, plus two paid weeks during the holidays, with bonus holidays;

 

A comprehensive group insurance plan, employee assistance program and telemedicine;

 

A very advantageous defined benefit pension plan;

 

A free parking space at the Saint-Denis pavilion;

 

The privilege of working daily with a dedicated team, exceptional artists from across Canada and over 170 talented students; all in a bilingual, diverse and inclusive work environment!

 
How to apply?
If you are interested in this position, please send us your resume and a cover letter outlining what makes you the ideal candidate to cv@ent-nts.ca 
We thank all applicants for their interest, but only those selected for an interview will be contacted. 
We are committed to providing an inclusive and accessible workplace for all and support the right to employability. We are an equal opportunity employer and welcome applications from people of all ages, genders, sexual orientations, visible and ethnic minorities, Aboriginal peoples and persons with disabilities. 
Apply now!