The National Theatre School of Canada (NTS) believes in employment equity and is committed to providing a workplace that is inclusive and accessible to all. For NTS, it is imperative that the diversity of our community be reflected in our staff, who must likewise be comfortable working with and for people of all walks of life. We strongly support the right to employability and greatly encourage applications from Indigenous people, people of colour, and those of all other ethnic and cultural affiliations, regardless of age, gender, sexual orientation, and disability.
Head Sound Technician
This job offer is closed
The Monument-National campus is an evolving facility that is energized by the presence of NTS students. The ideal applicant will provide exemplary and rigorous service to the many external clients while communicating the new values of the organization. This applicant will also be called upon to guide and transmit their knowledge to the students who will have to go through an intense training program in order to fully assimilate the workings of performing arts.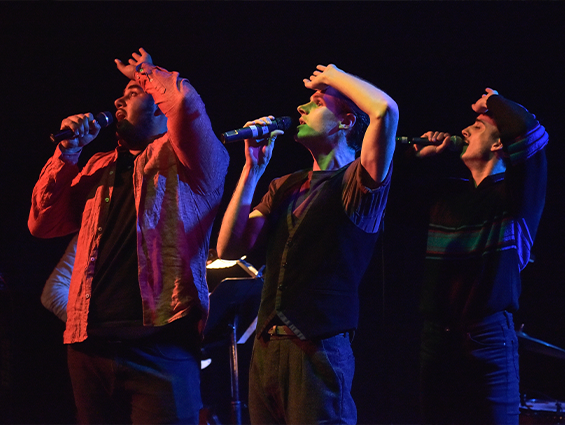 The Challenges
By joining our team, the applicant sought will be required to:
Participate in ongoing changes and take part in the implementation of innovative projects;
Contribute to maintaining honest and open discussions that allow for cohesion and effective teamwork;
Participate in the team's efforts to create an inclusive and caring professional space;
Share the idea that theatre brings people together and allows them to imagine, think and feel collectively.
Responsibilities
Reporting to the Technical Director and working with the Monument-National campus' technical team, the Head Sound Technician acts as the main resource in his area and supervises the technicians on their team. The Head Sound Technician is responsible for the maintenance of the equipment and sound services for all events and activities. The Head Sound Technician also participates in the set-up and teardown of equipment and may be called upon to operate sound boards for certain shows or events.
Plan their work and that of the teams according to the quotations and information received;
Oversee the smooth set-up and teardown of events, activities and performances according to the schedule established by the Technical Director;
Be responsible for the inventory, the periodic and annual maintenance of the department's equipment as well as its storage;
Ensure seamless communication at all times;
Adhere to and enforce occupational health and safety standards and regulations at all times;
Follow and apply internal policies and procedures to maintain a healthy, respectful, ethical and professional work environment;
Inform the Technical Director of any shortages in stage equipment;
Embody the values of the Monument-National campus and the National Theatre School by providing outstanding service to our internal and external clients;
Provide teaching support for student productions (knowledge sharing);
Participate in organizational meetings, whether at the Monument-National or Saint-Denis campuses;
Carry out any other related tasks.
Profile
A college diploma in entertainment production, theatre production or equivalent work experience;
Five years of experience in a similar position;
Excellent knowledge and skills with new technologies;
Teaching mindset and excellent interpersonal skills;
Flexibility, solution focus and positive attitude;
Autonomy and proactivity;
Good communication and dissemination skills;
Adaptability and ability to work under pressure;
Proficiency in French and English (both oral and written).
Assets
Knowledge of MS Office suite;
Knowledge of Qlab software;
Knowledge of Compass software;
Knowledge of Yamaha digital mixers.
How to apply?
This job offer is closed
We thank all applicants for their interest, however only those candidates selected for interviews will be contacted.
We are committed to providing a workplace that is inclusive and accessible to all and believe in the right to employability. That's why we support accessibility and employment equality; we encourage people of all ages, genders, sexual orientations, and ethnicity, as well as Indigenous people, people with disabilities, and people of colour, to apply.