The National Theatre School of Canada (NTS) believes in employment equity and is committed to providing a workplace that is inclusive and accessible to all. For NTS, it is imperative that the diversity of our community be reflected in our staff, who must likewise be comfortable working with and for people of all walks of life. We strongly support the right to employability and greatly encourage applications from Indigenous people, people of colour, and those of all other ethnic and cultural affiliations, regardless of age, gender, sexual orientation, and disability.
Paid Internship: Archival Technician
The National Theatre School of Canada (NTS), as part of the Young Canada Works at Building Careers in Heritage initiative, would like to offer an employment opportunity to an individual who is completing an archival studies program.  The 16-week position involves 35 hours a week at $19/hour.
The internship's duties are directly related to the fields of study: process and enhance our institution's archives, develop archiving policies, draft grant applications. The successful candidate will have the opportunity to work in a fast-paced, multi-tasking environment and to learn about the many aspects of archival work in a major theatre arts institution.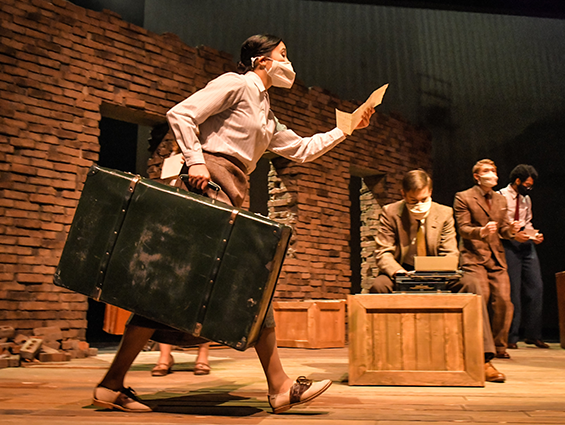 Responsibilities
As part of our team, this person will:
Participate in drafting a grant application for the enhancement of a School collection;
Draft document archiving policies and create a classification plan;
Locate and prepare internal documents to be scanned;
Assist with digitizing and archiving documents;
Ensure proper document management, classification and archiving in the various databases;
Cooperate with and support the NTS Library team;
Perform any other related tasks.
Profile
College or university degree in archival studies;
Knowledge of the laws governing access to and reproduction of archives;
Knowledge of the Rules for Archival Description (RAD);
Fluency in French and English, spoken and written;
Thoroughness, meticulousness, and self-sufficiency;
Excellent organizational skills and ability to meet deadlines;
Exceptional talent for collaboration and teamwork;
Open-mindedness and global vision at all times;
Strong interest in the cultural sector.
Eligibility
To be eligible for a subsidized position under this initiative, you must:
Be a Canadian citizen or a permanent resident of Canada or have been granted refugee status in Canada. Please note that non-Canadian students or graduates holding temporary work visas or awaiting permanent resident status are not eligible;
Be legally entitled to work in Canada;
Be under 30 years of age at the start of employment;
Be registered in the YCW online candidate database;
Commit to the full duration of the work assignment;
Not have another full-time job while employed with YCW;
Be a college or university graduate;
Not receive Employment Insurance benefits during the YCW internship.
This 16-week position involves 35 hours a week at $19/hour.
How to apply?
Please send your CV and motivation letter to cv@ent-nts.ca.
We thank all applicants for their interest, however only those candidates selected for interviews will be contacted.
We are committed to providing a workplace that is inclusive and accessible to all and believe in the right to employability. That's why we support accessibility and employment equality; we encourage people of all ages, genders, sexual orientations, and ethnicity, as well as Indigenous people, people with disabilities, and people of colour, to apply.
Apply now!