Zone maps
-What Zone am I located in?
-Zone funding circles
-What amount of funding does my zone get?
Zone Funding Map (specifics):
Circle A is intended to address those communities that are quite close to Red Deer and Circle C is designed to address those communities that are North or South of Edmonton or Calgary, respectively and yet are not considered by MapQuest.ca to be in the extreme North or South of the province. Circle D represents the extreme South of the province and a half of what is considered to the extreme North of the province and Circle E takes into account the other half of the extreme North. 
If you have any questions, please contact: pamela.hunnisett@ffca-calgary.com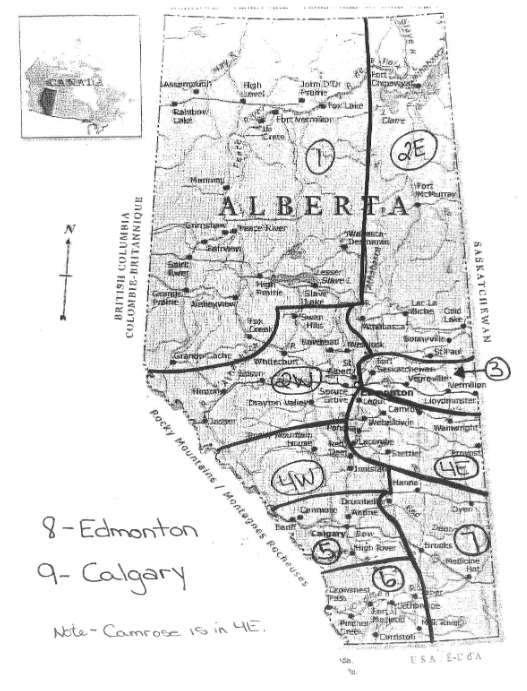 Zone 1 - Northwest Alberta

(NW of Slave Lake

)

Contact: Christine Hartman
Sexsmith Secondary School
9401 99 Ave.,
Sexsmith, AB T0H3C0
Phone: 780-568-3642
Email: christinehartman@pwpsd.ca

Zone 2E - Northeast Alberta

(NE of Athabasca)
Contact: Colin Byers
Edwin Parr High School
4 University Dr,
Athabasca, AB T9S 0A3
Phone: (780) 675-2285
Email: colin.byers@aspenview.org

 

Zone 2W - Northwest of Edmonton


(not including Edmonton)

Contact: Peter Taylor
Holy Redeemer High School
4912 12 Ave,
Edson, AB T7E 1S7
Phone: (780) 723-7437
Email: Peter.taylor@livingwaters.ab.ca
Zone 3 - East of Edmonton

(not including Edmonton)
Contact: Wade Hayden
Ardrossan High School
53129 RR 222
Ardrossan, AB T8E 2M8
Phone: (780) 922-2228
Email: Wade.hayden@eips.ca
Others in the zone
Phil Zinken
Phil.zinken@eips.ca
Zone 5 – Drumheller and West to Banff, south to High River

(not including Calgary)
Contact: Nashira Dernesch
Springbank High School
32226 Springbank Rd
Springbank, AB T3Z 2L9
Phone: (403) 999-7977
Email: Ndernesch@rockyview.ab.ca
Zone 6 – Southwest Alberta

(Lethbridge and surrounding areas to the mountains and borders)
Contact: Greg Wolcott (retiring June, 2019)
Winston Churchill High School
1605 15 Avenue North
Lethbridge, AB T1H 1W4
Phone: (403) 894-9786
Email: Greg.wolcott@lethsd.ab.ca
Others in the zone
Emily Welch
Emily.welch@lethsd.ab.ca
Zone 7 –Southeast Alberta

(Medicine Hat area to the borders)
Contact: Richard Grafton
Medicine Hat High School
200 7 St SW
Medicine Hat, AB T1A 4K1
Phone: (403) 594-9076
Email: Richard.Grafton@sd76.ab.ca
Zone 8 – Edmonton City
Contact: Linette Smith
Strathcona High School
10450-72 ave
Edmonton, AB T6E 0Z6
Phone: (780) 717-9070
Email: linette.smith@epsb.ca
Zone 9 –Calgary

(Public, Catholic, Private & Charter schools)
Contact: Arlene Orchard
FFCA High School
2116 MacKay Rd NW
Calgary, AB T3B 1C7
Phone: (403) 619-7464
Email: Arlene.orchard@ffca-calgary.com