Policy to Prevent Harassment and Promote a Safe Environment
National Theatre School of Canada's (NTS) position regarding safe working and learning environments in the theatre community.
1. We stand with the many people who are coming forward with their experiences of sexual harassment, exclusionary practices, bullying and inappropriate behaviour. We acknowledge the courage it takes to come forward and we thank them.

2. It is time for this behaviour to end and NTS must proactively contribute to building a safe and inclusive artistic milieu.

3. The artistic community must be more diverse and more inclusive, and built on respect for all people. Together we must undertake a thorough examination not only of individual behaviour but also of the structures that enable harmful practices and of the systemic barriers that deny people access to opportunities in the community.


The National Theatre School has undertaken the following actions:


1. Continue a process begun in 2016 of reviewing all policies to prevent harassment and abuse of power and ensure that training for staff and artists is integrated at all levels of NTS so that appropriate tools and resources are readily available to everyone.
2. Set up an arm's length and confidential process for the NTS community—current and past—to bring forward any experiences of harassment of any nature, bullying and inappropriate behaviour.
3. Developped a declaration of values for NTS that guides it artistically, pedagogically, administratively and from a governance perspective to ensure that it creates the safest possible environment in which to learn, work and create.
Bernard Amyot, Ad. E., Chair of the Board of Directors
Gideon Arthurs, CEO
Alisa Palmer, Artistic Director of the English section and Director of the Acting and Directing programs
Frédéric Dubois, Artistic Director of the French section and Director of the Interprétation program
Jasmine Kamruzzaman, President of the Student Council
Andrea Lundy, Director of the Production Design and Technical Arts program
Rose Plotek, Associate director of the Directing program
Andrea Romaldi, Director of the Playwriting program
François St-Aubin, Director of the Set and Costume Design program
Robert Bellefeuille, Director of the Mise en scène program
Catherine La Frenière, Director of the French Production program
Diane Pavlovic, Director of the Écriture dramatique program
Mechanism for handling complaints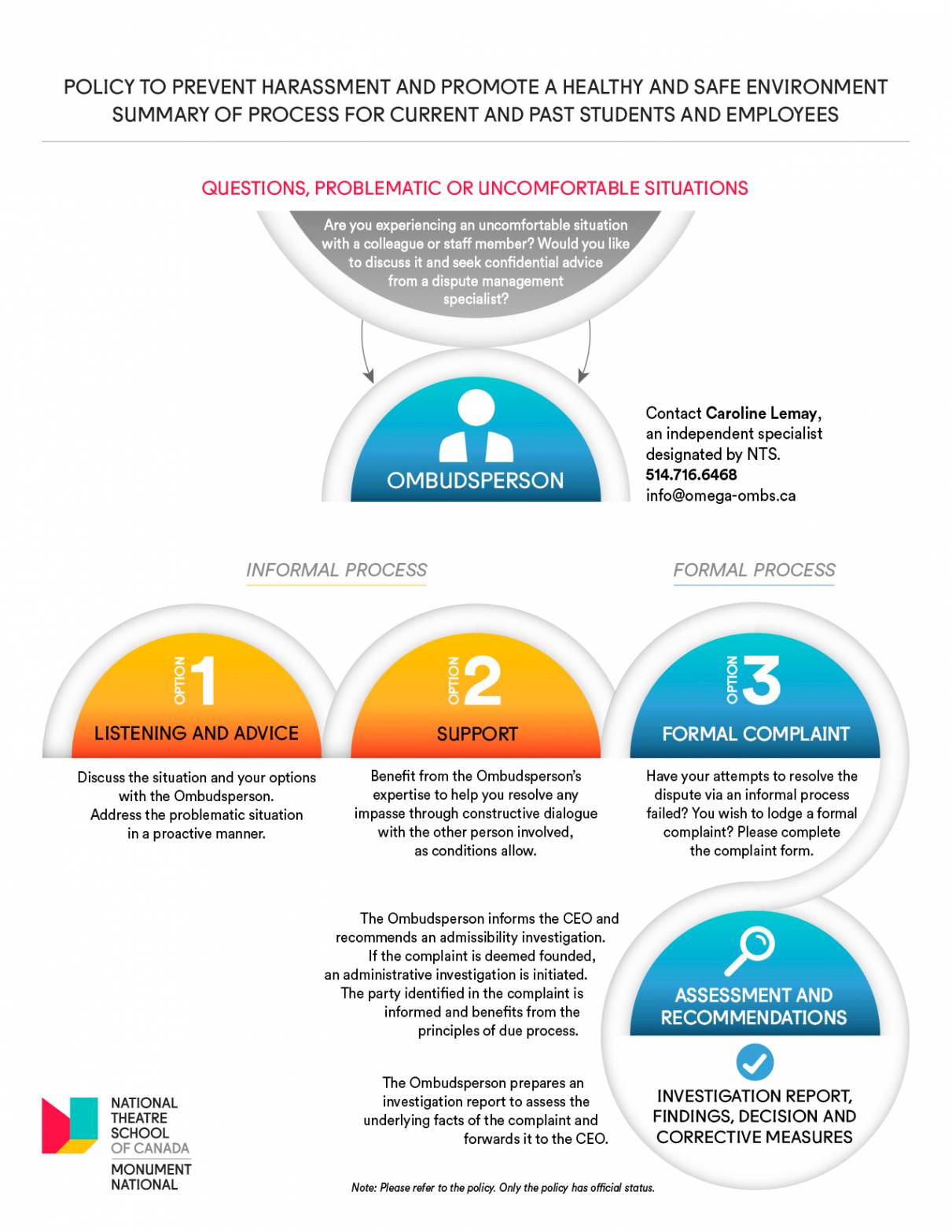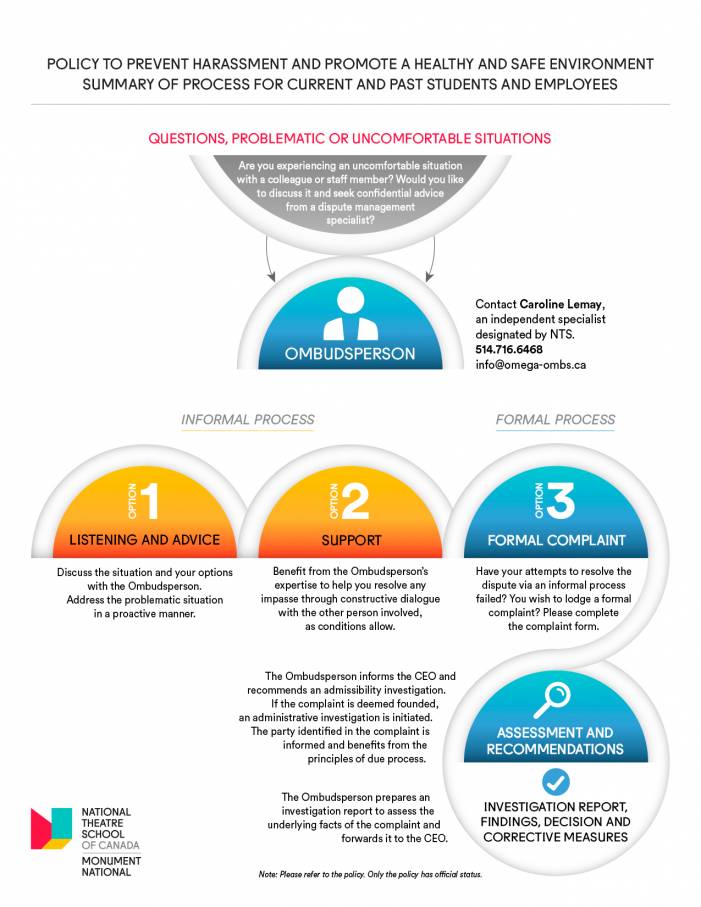 Policy to Prevent Harassment and Promote a Safe Environment
Read the full document here.
Policy to Prevent and Fight Sexual Violence
Coming Soon
Mechanism for handling complaints
Download the image in PDF format here.