Policy To Prevent and Fight Sexual Violence
May, 26 2023
The National Theatre School of Canada (NTS) recognizes the critical importance of ensuring a safe and healthy work, study, and living environment for everyone in its community. The present Policy was written to address the need to prevent and fight sexual violence.

Through this Policy, NTS is fulfilling its obligation under the Act to Prevent and Fight Sexual Violence in Higher Education Institutions (The Act).

As such, NTS is committed to:
•Fostering an environment where every member of the NTS community feels safe and freefrom sexual violence, which are not to be tolerated in any form or context.
•Providing full support to anyone who makes use of the Policy to ensure appropriate andfair treatment.
•Offering prevention and awareness-raising activities as well as mandatory trainingsessions for all NTS community members.

In order to counter sexual violence in its facilities, NTS requires the participation of all members of its community. Executives, teaching staff, managers, support staff, as well as students and residents must be actively involved in the fight against sexual violences.
Read the full policy
Policy to Prevent Harassment & Bullying and to Promote a Safe and Healthy Environment
This policy is in accordance with the principles of the Quebec Charter of Human Rights and Freedoms, which recognizes that every human being has the right to be treated with dignity, at all times. Therefore, any form of harassment, intimidation or abuse of authority is a violation of fundamental human rights.
The National Theatre School (NTS) hereby declares that no form of harassment, intimidation or abuse of authority will be tolerated, regardless of its source, to provide a healthy environment for the personal and professional development of everyone.

Objectives

Through this policy, NTS intends to:
−Tolerate no form of harassment, intimidation, or abuse of authority.
−Create a work and training environment where everyone is treated with respect anddignity.
−Prevent harassment, intimidation, incivility, or abuse of authority among members of theNTS community, within its two buildings, Saint-Denis and Monument-National, but also,and without being limited to, employees of its other entities such as the Centre for Artsand Social Innovation, or the NTS DramaFest.
−Encourage accountability among all members of the community through timely dialogueor third-party intervention to prevent the deterioration of a situation deemed unfair.
Read the policy
Mechanism for handling complaints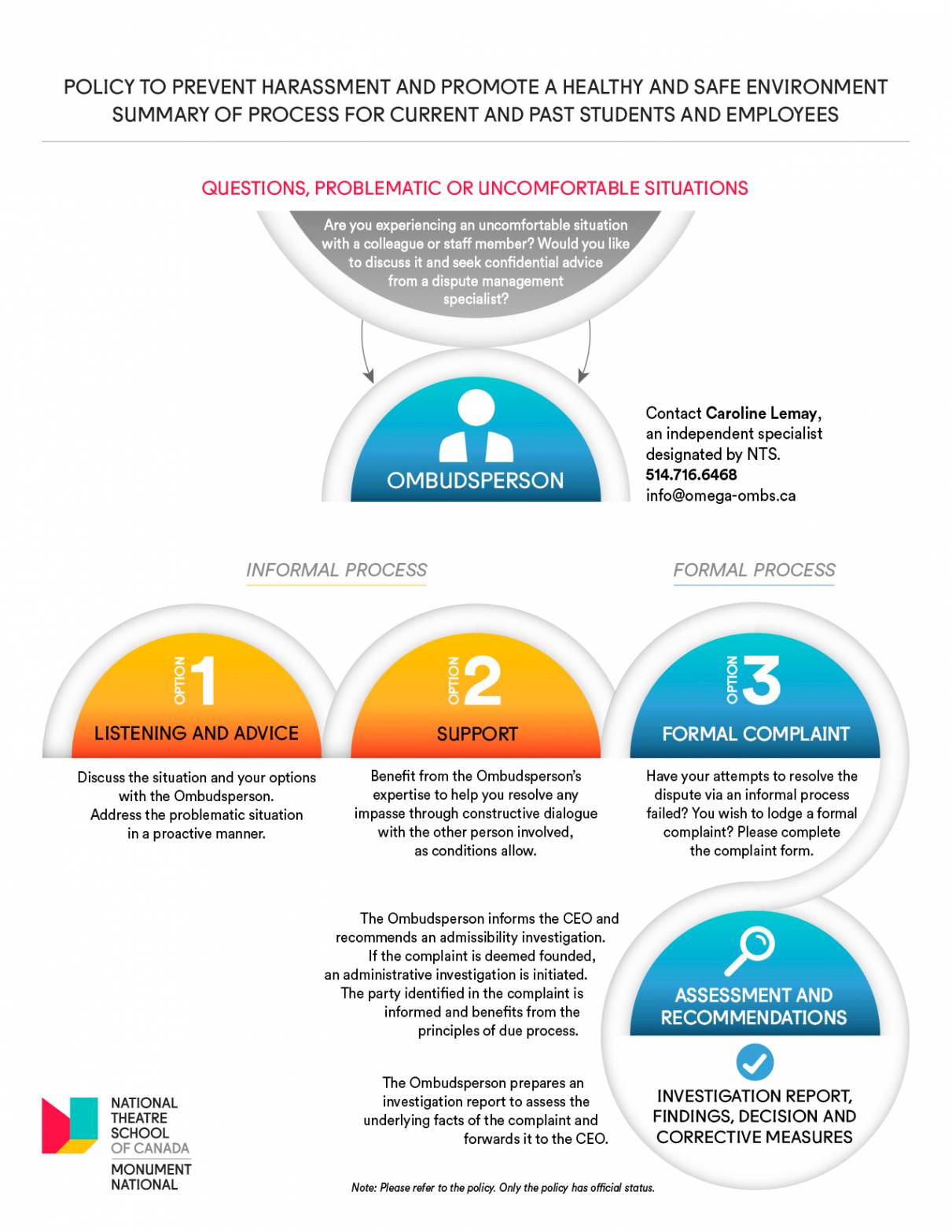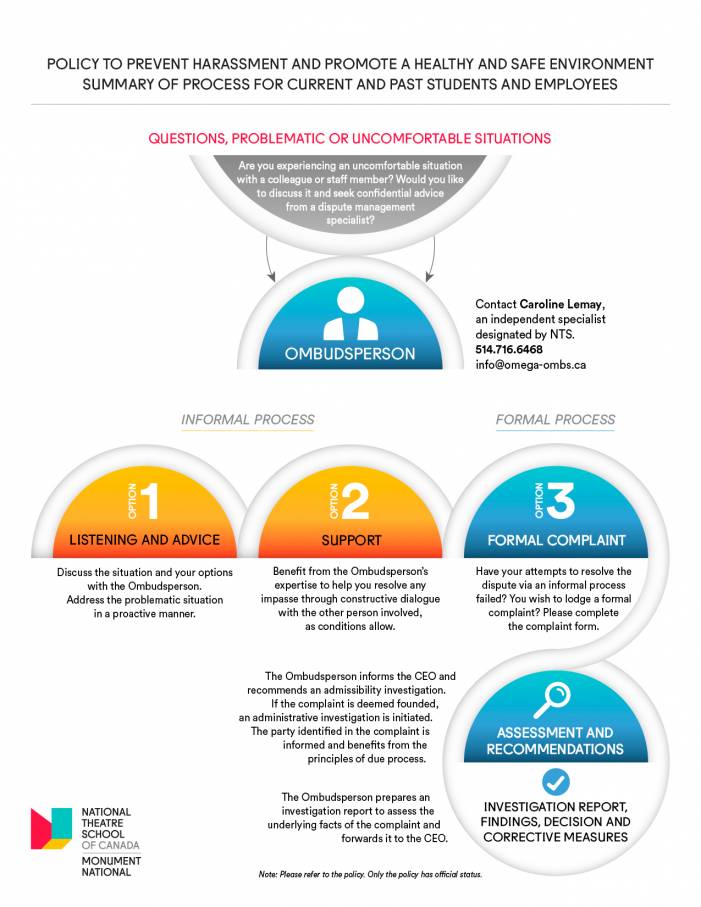 Mechanism for handling complaints
Download the image in PDF format here.
[1] The National Theatre School of Canada respects your privacy. We are committed to protecting the personal information of our users. We have adopted this privacy policy (the "Policy") in order to be transparent about what information we collect, why we collect it, with whom we share it, how you can access it and how you can correct it, if necessary. In this Policy, the terms "National Theatre School of Canada", "we", "us" and "our" refer to the National Theatre School of Canada.
[2] We recognize our obligation to manage your data responsibly. We do not and will not sell your data to third parties.
[3] This policy applies to the use of the www.ent-nts.ca website and the Tuxedo sales platform. Please read it carefully to understand when you provide us with your data and how we use it. By using our website, you consent to the use of your personal information as described in this Policy.
[4] In order to make this Policy as clear as possible, we have identified the occasions when a user could potentially share personal information with us. The Policy is divided as follows:
- Learn more about the organization
- Obtain show or event tickets from the organization
- Apply for a job posted on the website
- Enroll in a professional program, residency or public course
- Contact customer service
[5] The information collected through these sections will be discussed in more detail in this Policy. Information such as how your personal information is used, how and when it might be shared, how you can access and control it, how we ensure your information is secure and how to contact us will be discussed.
When you try to learn more about the National Theatre School of Canada
[6] By trying to learn more about the National Theatre School of Canada in one of the following ways:
Contact us by email for more information
Subscribe to the newsletter
Fill out a contact form
If you visit our website, various information may be collected.
[7] We automatically collect the following information through cookies or similar technology:
Browser type and version
Page leading to the website
Geographical location
Amount of time spent on the website
[8] We collect the following information when you first contact us or communicate with us or in the course of your communications with us:
Las name
First name
Email address
Phone number
Information provided voluntarily
Others: Postal code
[9] Why: The data collected allows us to analyze how our website is used and accessed, enabling us to enhance its functionality and optimize it to better meet our users' needs. This data also enables us to better serve you and to communicate with you in order to help you easily reach the information you are looking for.
[10] Legal grounds: necessary for our legitimate interests (improving and personalizing our products and services) and yours (answering your questions and allowing you to contact us).
[11] Please note that the information collected by cookies does not allow us to identify you. Please also note that you can choose to refuse the collection of cookies: Through your web browser.
[12] However, if you refuse to accept cookies, you may not be able to access certain parts or features of our website.
When you buy tickets from the National Theatre School of Canada
[13] When you book tickets via Tuxedo (online ticketing service by Groupe iCible) on our website, we will collect certain information such as your first and last name, gender, email address, mailing address, telephone number and payment information.
[14] Why: We use this information to process the transaction that allows you to book tickets with us, to contact you to keep you up to date on the event for which you have booked tickets and for statistical purposes.
[15] Legal grounds: This information is necessary to fulfill the contract of sale between us and you. It is also necessary for the legitimate interests of the purchaser, namely to obtain the tickets purchased from the National Theatre School of Canada, to ensure that we are paid and to analyze our clientele. If you make a donation while purchasing a ticket, we must obtain your personal data in order to issue an official tax receipt.
[16] Please note, however, that if you refuse to provide us with the personal information requested, we may not be able to follow up on your request and process your purchase.
When you apply for a job
[17] When you decide to apply to work at NTS, we ask you to provide certain personal information so that we can process your application according to the job criteria.
We collect:
Email address
Copy of CV
[18] Why: We use this information to review your application and respond, if appropriate.
[19] Legal grounds: necessary for our legitimate interests (enabling us to assess whether your profile corresponds to what we are looking for) and yours (applying as a candidate in our company and obtaining a response to your application if it interests us).
When you contact our customer service
[20] You may wish to contact our customer service department in the event of a problem. During this process, we will collect information such as your:
Email address
 [21] Why: We use this information to identify you and respond to your inquiries or requests.
[22] Legal basis: This information is necessary in order to correctly identify any person contacting us and to be able to respond to your needs.
How do we use your data?
The submission of your personal information through your use of our site is governed by this Policy. As a user of our site, you also agree to respect and protect the privacy of third parties.
[23] More specifically, we use your data for the following purposes:
To develop new features and improve the website
To communicate for marketing, advertising or account management purposes
To compile statistics to guide business decisions
Our use of cookies
[24] When you visit our website, you may provide us with information via cookies or similar technology.
[25] Cookies are files containing a small amount of data about a given user. This data may include an anonymous unique identifier. Cookies are stored on the user's computer or on the hard drive of another device. They enable us to tailor your user experience each time you visit our site.
With whom do we share your data and why?
[26] We do not sell our users' personal information. Your data is shared only in accordance with this Policy. When you consent to this Policy, however, we may share your personal information with the following parties:
[27] Third-party suppliers: In the course of our operations, we may need to share some of your data with certain third parties. For example, we may share some of your data with our IT suppliers, for the performance of their mandate or the execution of a service contract.
[28] In general, the suppliers we use will only collect, use and disclose your information to the extent necessary to perform the services they provide to us, such as hosting our website through Nxstar and Deux huit-huit.
[29] However, some third-party service providers have their own privacy policies regarding the information we are required to provide to them when we use their services. With respect to these providers, we recommend that you read their privacy policies carefully so that you can understand how they will treat your collected personal information.
[30] Once you leave our website or are redirected to a third-party website or application, you are no longer governed by this Policy.
[31] List of our IT suppliers
Meta (advertising analysis - United States): https://www.facebook.com/privacy/policy/
Google (data analysis - United States): https://policies.google.com/privacy?hl=fr&gl=fr
To prevent your data being collected by Google Analytics: https://tools.google.com/dlpage/gaoptout?hl=en  
To personalize the ads appearing on Google platforms: http://www.google.com/settings/ads
MailChimp (email marketing - United States): https://mailchimp.com/legal/privacy/  
Smartsheet (form - United States) https://www.smartsheet.com/legal/privacy
Constant Contact (email marketing - United States): https://www.constantcontact.com/legal/privacy-notice
Donor Perfect (Donations and Marketing USA) https://www.donorperfect.com/company/privacy-policy/
JotForm (form - United States): https://www.jotform.com/privacy/
[32] Parties with whom it may be legally necessary: we may disclose your information if required to do so by law or if such disclosure is necessary in order to:
Comply with the law or any legal process;
Protect the rights or property of the National Theatre School of Canada;
Protect the security of our website, our users and their data.
[33] Parties who may be involved in a financial transaction: We may transfer your information following a change of control, merger, liquidation, or other transaction involving the National Theatre School of Canada. The information required for this process will only be used once the transaction has been completed, and we will only disclose this information without your consent if we are authorized to do so by law. We will take the necessary measures to protect the confidentiality of this information and will destroy it if the transaction is not concluded or if its use is no longer necessary for the purposes of concluding the transaction.
[34] Please note that you may leave our website by clicking on certain links on our website. We assume no responsibility for the privacy practices of these other sites and recommend that you read their privacy policies carefully.
Your rights
[35] Data protection laws give you certain rights in relation to your information. In particular, you can:
Request access to your data in order to verify it. Please note, however, that we reserve the right to request additional information in order to prove your identity;
Ask us to modify or rectify your data;
Ask us to delete personal data in our possession, unless we are required to retain it in order to comply with legal obligations, for example;
Object to the processing of your data, unless we have legitimate grounds which would override your rights or interests or if we need to continue to process such data for the establishment, exercise or defence of a legal claim;
Ask us to restrict the processing of your data if it is incorrect, if you believe that our processing of your data is unlawful, or if we no longer need to process your data but must retain it for legal purposes;
Request your personal data and information in an accessible format;
Withdraw your consent to the processing of your personal data;
File a complaint with the competent authority if you believe that we are processing your data in violation of applicable data protection laws.
Access and control of your data
[37] You can check, modify or delete your personal information by sending us an email at infoPRP@ent-nts.ca or via the "Contact" section on our website, or by using the contact information at the end of this Policy. We will respond to your request as quickly as possible. Please provide us with sufficient details so that we can identify you and respond to your request.
Where your data is stored
[38] Your personal information is hosted in the following countries: Canada (Quebec) and the United States. It is hosted on Nxstar servers and on various third-party platforms.
How long we keep your data
[39] We will retain all information collected for as long as is necessary to fulfil the purposes for which it was collected or for other essential purposes such as complying with legal obligations. We will destroy this data at the end of this period, or if you decide to withdraw your consent. If you so request, once your data has been deleted, you will receive confirmation that your request has been processed.
Security
[40] To protect your personal data, we take reasonable precautions to ensure that it is not lost, misappropriated, accessed, disclosed, altered or destroyed inappropriately.
[41] For example, on our website we have:
Firewall, anti-virus, 24/7 monitoring, anti-DDoS protection
[42] Internally, we:
Make frequent backups
Give access to data only to authorized persons who need to access it in the course of their work
[43] If you have any questions about the security of your personal data, please send us an email via the "Contact" section of our website or directly to infoPRP@ent-nts.ca.
Age of consent
[44] We do not solicit or collect personal information from minors under the age of 14. If you are a parent or guardian and become aware that a minor under the age of 14 has provided us with personal information, please contact us. If we become aware that we have collected personal information from a minor under the age of 14 without parental consent, we will delete any information that may have been collected.
Competent authority
If you are not satisfied with our response to a request concerning your personal information, you may contact the Commission d'accès à l'information du Québec, the public body responsible for overseeing personal data management and processing practices in Quebec, or the Office of the Privacy Commissioner of Canada for Canada.
Commission d'accès à l'information du Québec
Address:
Suite 900
2045 Stanley Street
Montreal, Quebec  H3A 2V4

Telephone: 514-873-4196
Fax: 514-844-6170
Toll-free number: 1-888-528-7741
Email: cai.communications@cai.gouv.qc.ca
Website: http://www.cai.gouv.qc.ca
Office of the Privacy Commissioner of Canada
Address:
30 Victoria Street
Gatineau, Quebec  K1A 1H3
Toll-free: 1-800-282-1376
Telephone: 819-994-5444
Fax: 819-994-5424
Website: https://www.priv.gc.ca/
Changes to the Policy
[45] We reserve the right to modify this Policy at any time; please check back frequently. Unless otherwise specified, changes to this Policy are effective immediately upon posting on our site. If changes are made, we will notify you here of the update so that you are aware of what information we collect, how we use it, and under what circumstances, if any, we disclose it.
Questions and contact details
[46] If you wish to access, correct, modify or delete any personal information we have about you, file a complaint, or if you simply want more information, you can contact us at the following address:
The National Theatre School of Canada
To the attention of the person responsible for the protection of personal information
5030 Saint-Denis Street
Montreal, Quebec  H2J 2L8
Canada
514-842-7954
infoPRP@ent-nts.ca
Last update: June 19, 2023