Gideon Arthurs, CEO of NTS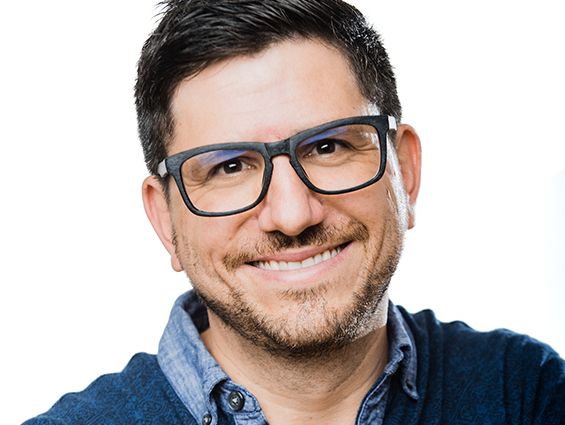 Gideon Arthurs is the CEO of the National Theatre School of Canada, the President of the Board of La Serre/OFFTA, sits on the Board of Directors of the Conseil des arts de Montréal, and is a member of the Steering Committee of the Canada Arts Summit. He served as a juror for the 2015 Siminovitch Prize for Excellence and Innovation in Theatre.
Read the full bio
Dear teachers, colleagues, friends of the Festival,

First and foremost, thank you for everything you have done to build the Drama Festival over the years. It is because of your dedication, passion, hard work and vision that the Festival is heading into its 73rd season. Like you, we at the National Theatre School were deeply distressed to hear that the Festival was in danger without the support of Sears Canada. We were equally inspired by the outpouring of support that helped the 2018 edition happen, with a successful crowd funding campaign and offers of support from hundreds of community partners.

I am writing to you today to let you know that we are here to stay, deeply committed to guaranteeing the next 70+ years of helping young artists find their voice. Over the past year, we have been working closely with Wayne Fairhead to find a way forward and it became clear that no other partner like Sears, who were exclusive funders of the festival for decades, would present itself. We also felt that the festival was too important to simply be passed on to a new corporate partner and that the best way to guarantee its future was to become responsible for the festival ourselves. We are proud to confirm to you all that National Theatre School Festival is now officially launched, evolving from what was once known as the Sears Drama Festival, with NTS managing the festival and providing the funding required for the festival to survive and thrive.

We are hoping that our involvement will not only stabilize the current situation but also add enormous value as active partners. Beyond funding the festival, some of the ways we imagine working with you include:
Working with teachers to communicate the value of the Festival to their school administrators and board trustees;
Helping to recruit teachers at other schools to build district and regional participation;
Developing new resources to support the creation of productions, including extensive lists of plays appropriate for young artists, access to information about rehearsal and even eventual offers of training for teachers on how to further integrate theatre in the classroom;
Helping to prepare workshops at the district, regional and provincial levels, including contacting artists and conceiving new workshops;
Finding private sector partners to increase support for your students, including more money for travel subsidies, more prizes and scholarships, and more workshops;
Working with regional partners to provide greater support for the BC and Atlantic Drama Festivals, including better financial support;
Planning for an eventual National Showcase by adding new regions to the fold.
I would like to underline one important point: this is your Festival and it will always be yours. Our hope is to make sure that we support, to the best of our abilities, the incredible, selfless work you are already doing and to make sure that the young people we support continue to have a way to discover the joy and pleasure of expressing themselves through theatre. We humbly ask you to be as open and honest with us in the coming months to figure out how this can all move forward and to make your work on the festival easier and even more impactful.
There is much work to be done and much to come in the months to follow, but we wanted to communicate a few important points:
Wayne will carry on his role as Executive Director for the 2019 edition, accompanied by incoming Festival Director Erin Brubacher. Those of you who attended the Ontario showcase will recognize Erin as the adjudicator for this year's edition. She is a Toronto- based artist and culture organizer with an international reputation. Her vast experience as an arts-educator, including holding a teaching degree and having organized education programs at professional theatres across the country, and as a creator who works with youth, most notably on the award-winning production Concord Floral, means she has a unique perspective of the realities of working with young people and the daily challenges of being a teacher. Over the next year, Wayne will pass on his accumulated expertise to Erin and then begin to step back for the 2020 edition. Erin and Wayne will be supported by a team of coordinators, to be announced as they come on board.
The entire NTS team is excited and committed to work with you. In particular, our communications and fundraising teams are already hard at work, so in the coming months you will notice some changes on the website and social media platforms, as well as the look and feel of publicity materials. Again, we trust you will be open and honest with us on your thoughts on anything we put forward. To simplify communication, we have set up a general email address that you can connect to at any time – please write to dramafestival@ent-nts.ca with your thoughts, any information you want to share, any enquiries you may have, or just to let us know who you are, and we'll make sure your message gets to the right person.
I want to reiterate how incredibly grateful we are for all that you do. Without you, there is no Drama Festival. I would go so far as to say that without you, without the Drama Festival, theatre would be in danger of sliding into obscurity. For 72 years, this festival has built the future of theatre – here's to 72 more years of incredible art!

Once again, please do hesitate to contact us at any time. Much more information will be coming out in the coming weeks and months, but for now I wish you all a wonderful summer and a well-deserved rest before it starts all over again.
With gratitude,
Gideon Arthurs CEO
On behalf of Wayne Fairhead, Erin Brubacher and the NTS team