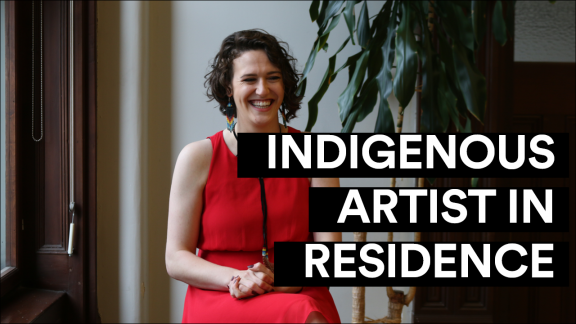 Do you want

 to expand your artistic practice in theatre?


Would you like to develop new theatre-making skills?



Do you believe 

in the power and usefulness of lifelong training?

 
About the residency
NTS offers a two-year training program to Indigenous artists who have been working for a number of years in their respective artistic or cultural fields, and who wish to grow as theatre-makers. 
This flexible training program allows artists the opportunity to design their own course of study at NTS.  
Access to training across all the School's core programs is possible: Acting, Directing, Playwriting, Production Design and Technical Arts, Set and Costume Design 
This program lasts 2 years and offers artists the opportunity to:
Create and evolve a distinct path of learning at NTS;

Develop personal artistic projects;

 

Make a direct impact on the ongoing transformation of the National Theatre School.
Who should apply
The residency is available to Indigenous artists who have been working in theatre, their art form or cultural practice for a number of years, and who are interested in expanding their artistic practice in theatrical forms.
Is this an Indigenous Arts Residency or is this a program for Indigenous Artists in Residence?
This is a program for Indigenous artists to take advantage of NTS resources to expand and enrich their theatre-making capabilities. NTS does not offer training in Indigenous methodologies, forms and practices, but we aim to facilitate mentorship, and sometimes teaching, with Indigenous artists and coaches.
Do I need to use my time in a specific way while I'm in residency at NTS?
No. Conversations with program directors as well as the head of the residency programs will help you determine a course of study that suits you and your needs. This could involve a focus on specific classes and workshops offered by the school's core programs or on personal artistic projects. Or a mix of both.
Can I keep working while at NTS?
The flexible nature of this program means that you can carve out time for personal and professional projects. As artist-in-residence, you're always in conversation with the school about schedule, workload and priorities.
What kind of financial support is available?
NTS covers the cost of all training and a bursary to support living expenses for the resident is provided.
Am I alone while I'm studying at NTS?
As artist-in-residence, you are in constant contact with the Associate Director of Residencies to adjust and improve your experience at NTS. Private coaching and mentorship can be arranged, associated with specific projects or over the course of your time at NTS. The recently formed Indigenous Advisory Circle is working to increase a sense of welcome and community for Indigenous artists at the school.
Do I need to move to Montreal?
Ideally, if accepted, you'd be prepared to live in Montreal while you train at NTS. If your personal circumstances make this difficult, the possibility of modular training, with separate visits to the city, can be explored.
Is there anyone I can speak to for more information?
You can contact Matjash Mrozewski, Director of the Directing Program and Associate Director of Residencies, with any questions you might have and to get more information.
514-842-7954, ext. 138
APPLICATIONS ARE CLOSED FOR 2022
---
Applications should be sent to Matjash Mrozewski by November 25th, 2021 with the subject line Indigenous Artist in Residence, and include as attached PDFs:
A detailed CV or list of artistic accomplishments
An artist's statement that answers the following:
Why do you make live art?
What about your professional trajectory has led you to apply?
What do you hope to gain from your time at NTS?
Your artistic statement can be written and can also include other ways to share who you are, your work and yourself (i.e., images or audio recordings, video clips, etc.).
1-3 letters of recommendation that speak to different aspects of your artistic practice.
Shortlisted candidates will be interviewed in-person or remotely within a few weeks of the submission deadline.  
Please contact Matjash for more info. 
Context
As a national institution, NTS has a duty to understand its role in the ongoing reconciliation process that is unfolding across the country, as well as a duty to foster strong ties to Indigenous nations. To this end, NTS is developing training opportunities to provide artists with expanded access to our resources and to provide dedicated space at the school for practices that are vital to indigenous artists. The Indigenous artistic resident will bring to the School a personal artistic practice and will benefit from time, space, expertise, and resources available at the School. For its part, and aware that its current methods do not specifically include Indigenous artistic practices or art forms, NTS recognizes and honours diverse approaches and paths supported by these artists. The School is eager to undergo this learning process and is confident that it will have a lasting influence on its pedagogy.  
This residency is made possible through the support of The Cole Foundation, The Conseil des arts de Montréal and Enbridge.
Barry Bilinsky
Barry Bilinsky (Indigenous Artist in Residence, 2024) is a professional multi-disciplinary theatre creator of Metis, Cree and Ukrainian heritage. Based in Alberta, he has worked as a director, curator, performing artist, stage manager, and technical production manager across Canada with projects centred primarily around the proliferation of Indigenous arts, artists and collaborations. Barry is committed to developing honest, respectful, and purposefully compassion creations that challenge the overarching cultural assumptions present in the performing arts community.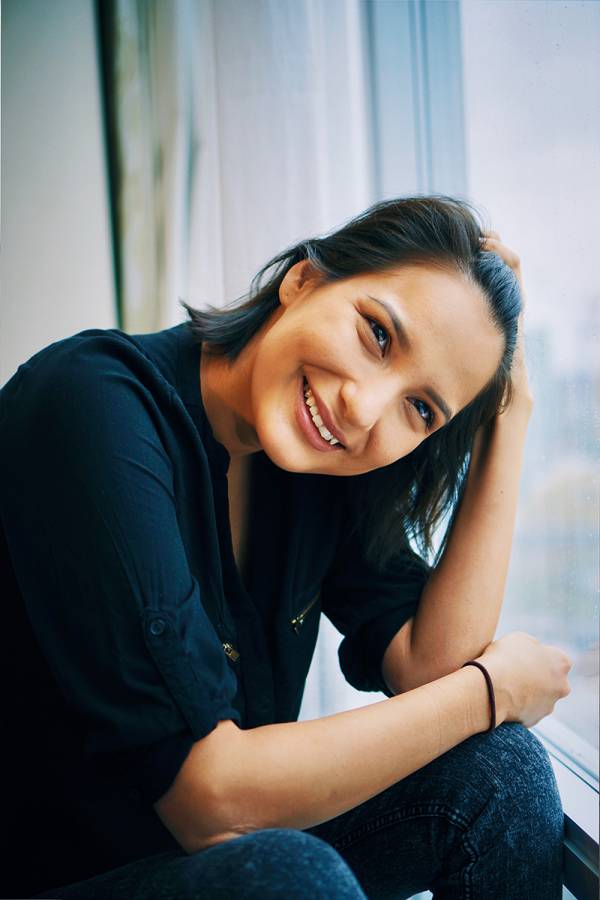 Darla Contois
Darla Contois (Indigenous Artist in Residence, 2023) is a Cree-Salteaux performer and playwright. She graduated from the Centre for Indigenous Theatre's professional training program in 2014, attended David Smukler's National Voice Intensive and premiered her solo show White Man's Indian at Summerworks 2017 in Toronto where she was awarded the Emerging Artist Award. Her most recent work produced by Winnipeg's Prairie Theatre Exchange The War Being Waged, has been acknowledged by Toronto Critic Lynn Slotkin with a Tootsie award.
Rebecca Cuddy
Métis/Canadian, Mezzo-Soprano Rebecca Cuddy (Indigenous Artist in Residence, 2022) is a fast up and comer on Canadian operatic stages. She has been twice nominated at the Dora Awards alongside her colleagues for exceptional ensemble work, ultimately taking home the win for Soundstreams' Two Odysseys; Pimootewin and Gállábártnit. Her recent career highlights include singing La Métisse, in the world premiere of Riel; Heart of the North with Regina Symphony Orchestra, Kwe in the world premiere of Shanawdithit with Tapestry Opera/Opera on the Avalon, Mercedes (Cover Carmen) in Carmen, and Dreitte Dame in Die Zauberflöte.
Rebecca has a keen interest in Indigenous relations and music, along with contemporary composition. She is immensely proud to be a collaborator on multiple productions and part of 6 new Indigenous Opera productions in the past 3 years.
Rebecca completed her MA in Voice and Opera at The Royal Academy of Music, London U.K. 2017, and her BMus in Voice Performance at Western University, 2015. She currently studies voice with her incredible teacher Claudiu Stoia. She is excited to continue exploring her love of the performing arts as the Indigenous Artist in Residence at the National Theatre School of Canada this fall, following in the footsteps of so many talented Indigenous artists.
---
Rebecca's residency is supported by the Cole Foundation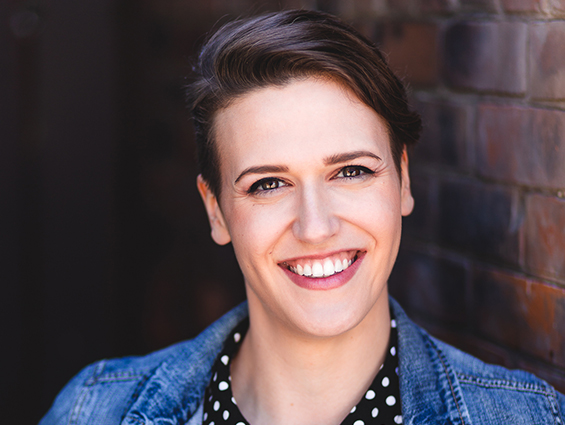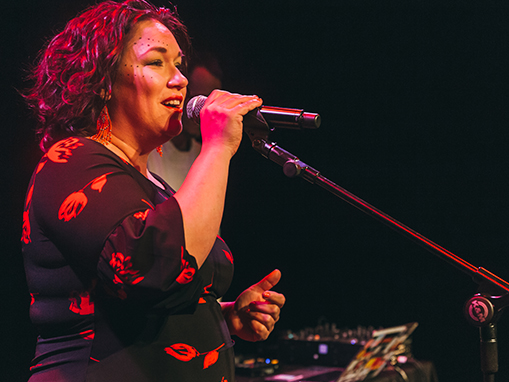 Sylvia Cloutier
Sylvia Cloutier (Indigenous Artist in Residence, 2020) is from Kuujjuaq, Nunavik (Northern Quebec) a mother, performing artist, producer, director, well known for performing Inuit throat singing and drum dancing. She has collaborated with many artists all over the world including Think of One from Belgium; Tafelmusik, a Toronto based baroque orchestra; Montréal based DJ Geronimo Inutiq and the National Symphony Orchestra when visited Iqaluit in 2012.
"It's really important when Indigenous artists are here at the School. When we show our presence through art, it connects us as human beings. And I think that's the whole point."
---
Sylvia's residency was supported by the Cole Foundation
Jimmy Blais
Jimmy (Indigenous Artist in Residence, 2019) is a member of the Muskeg Lake Cree Nation.
Born and raised in Montreal, Jimmy graduated from Concordia's Theatre Performance Program. He has worked professionally for over 10 years, for companies like The Stratford Festival, The Centaur, Geordie Productions, Porte Parole and La Licorne. Jimmy is the co-founder of the META nominated theatre company PlayShed. Jimmy also played the role of Watio on APTN's hit series Mohawk Girls. He is an acting teacher, director, mentor and coach. He is the host of a new travelling documentary television series called Chasing The Midnight Sun. Jimmy focused on playwriting and creation during his Indigenous Artist Residency at The National Theatre School of Canada in 2018 and 2019.
Out of all this, his favorite gig is being a dad to his daughter Indigo.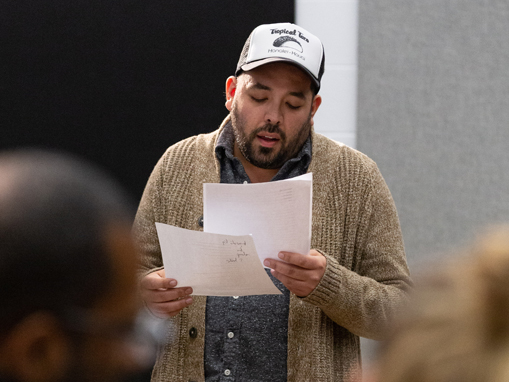 Jimmy Blais (Cree, Muskeg Lake Cree Nation, SK) and Sylvia Cloutier (Inuit, Kuujjuaq, Nunavik) share their experience as Indigenous Artists in Residence at the National Theatre School of Canada.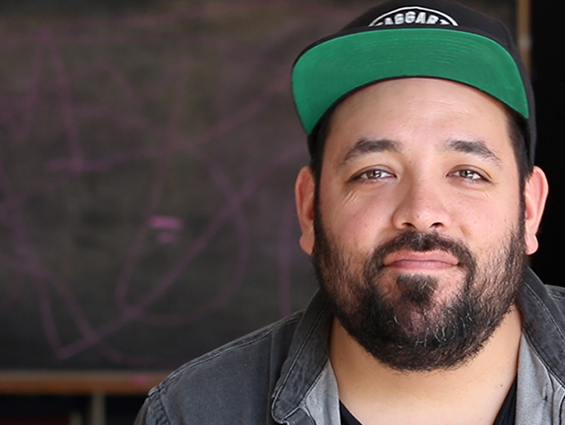 Indigenous Artists in Residence in Action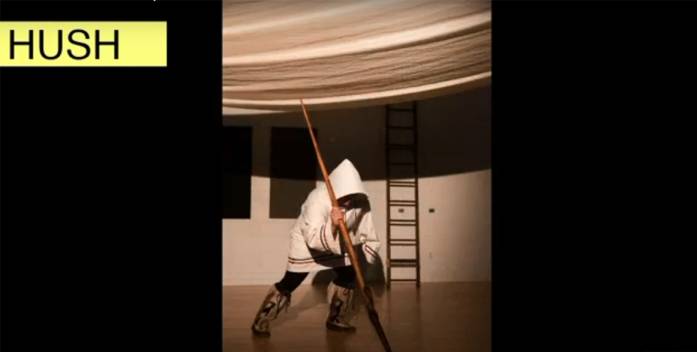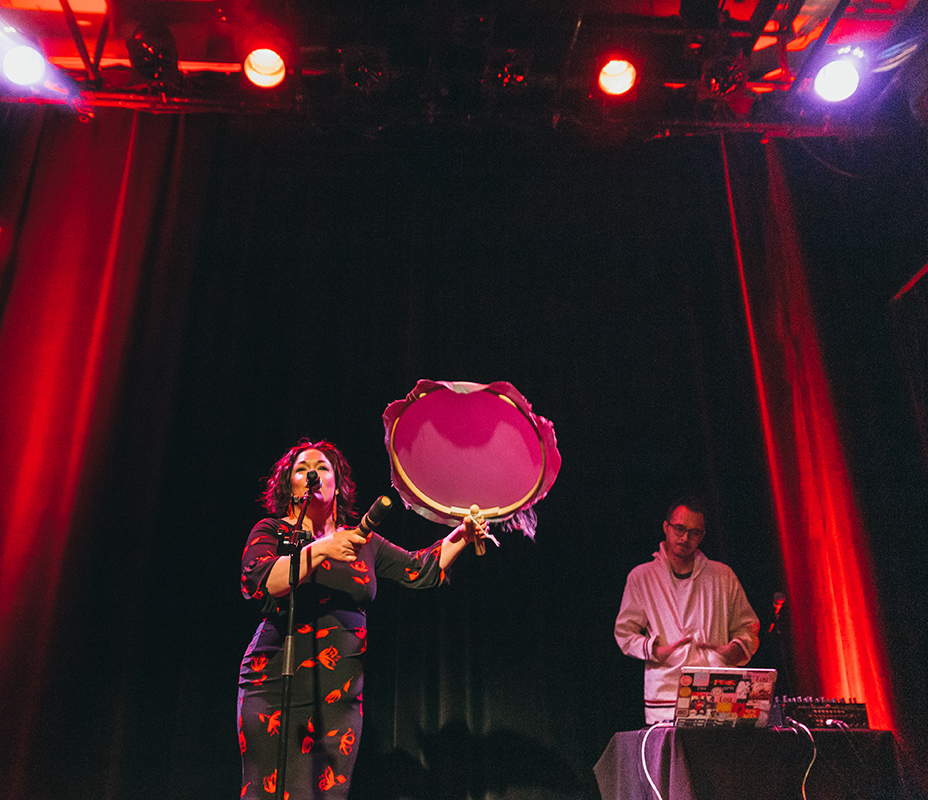 Sylvia Cloutier (Indigenous Artist in Residence, 2020, Kuujjuaq, Nunavik) at Nuit Rouge, March 2019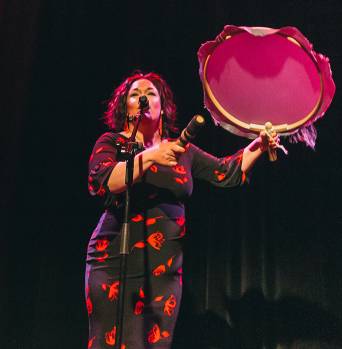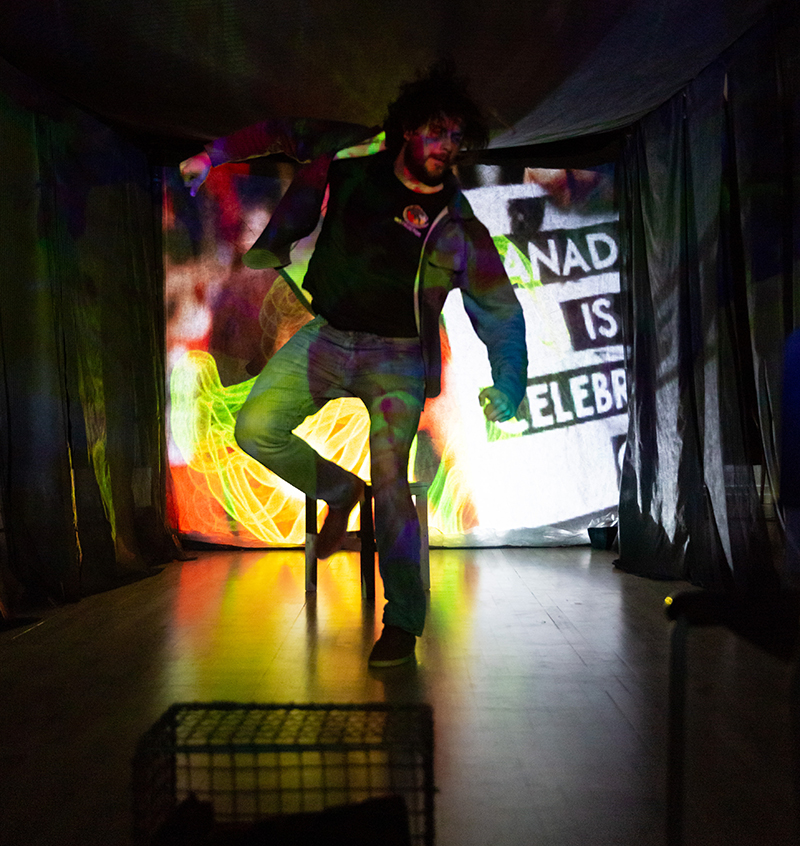 Meegwun Fairbrother in Sonny's Way, directed by Jimmy Blais (Indigenous Artist in Residence, 2019), May 2019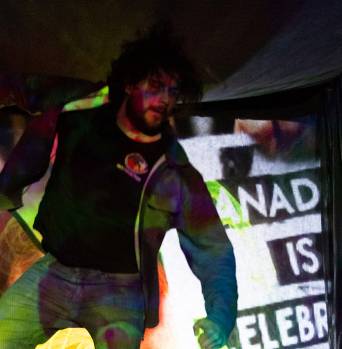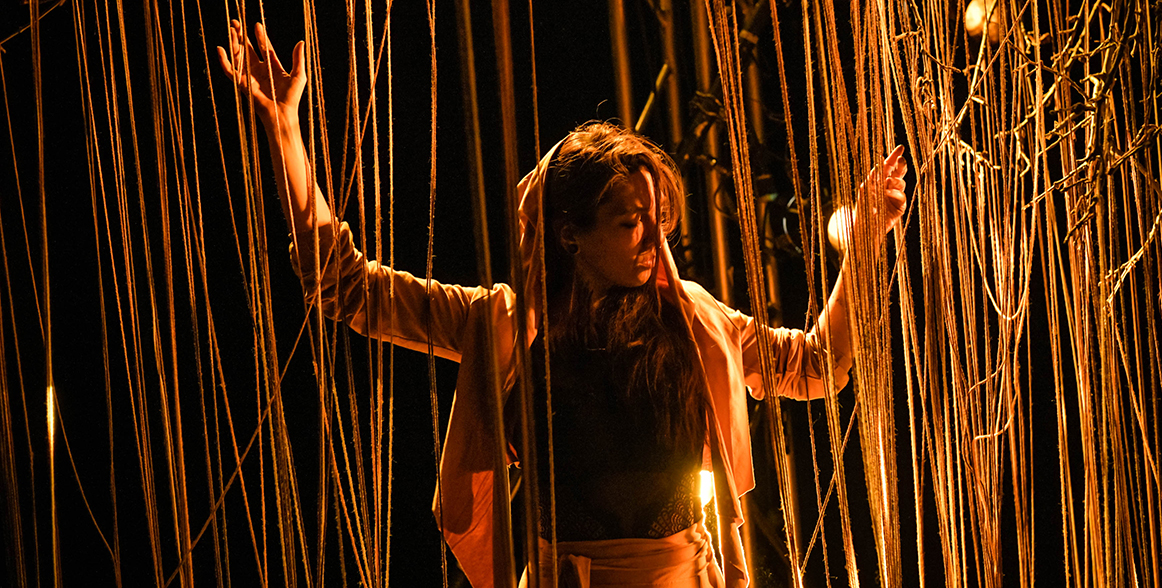 Soleil Launière (Artiste autochtone en résidence, 2020, Mashteuiatsh) in Sheuetamᵘ, February 2020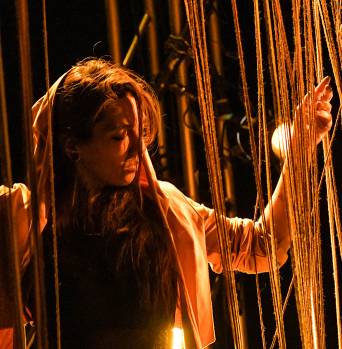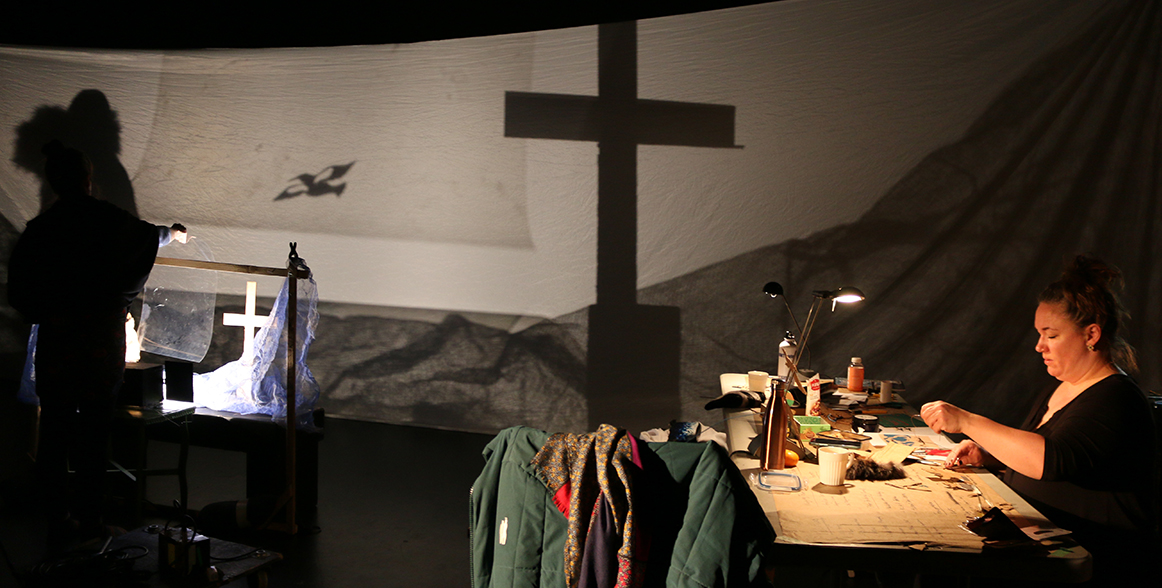 Sylvia Cloutier (Indigenous Artist in Residence, 2020, Kuujjuaq, Nunavik) presenting No Wonder at UTESSIT in February 2020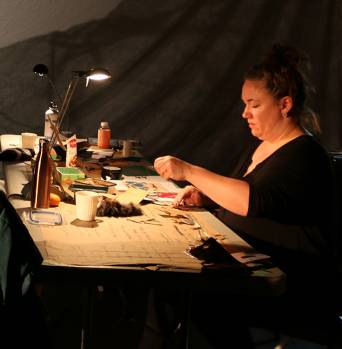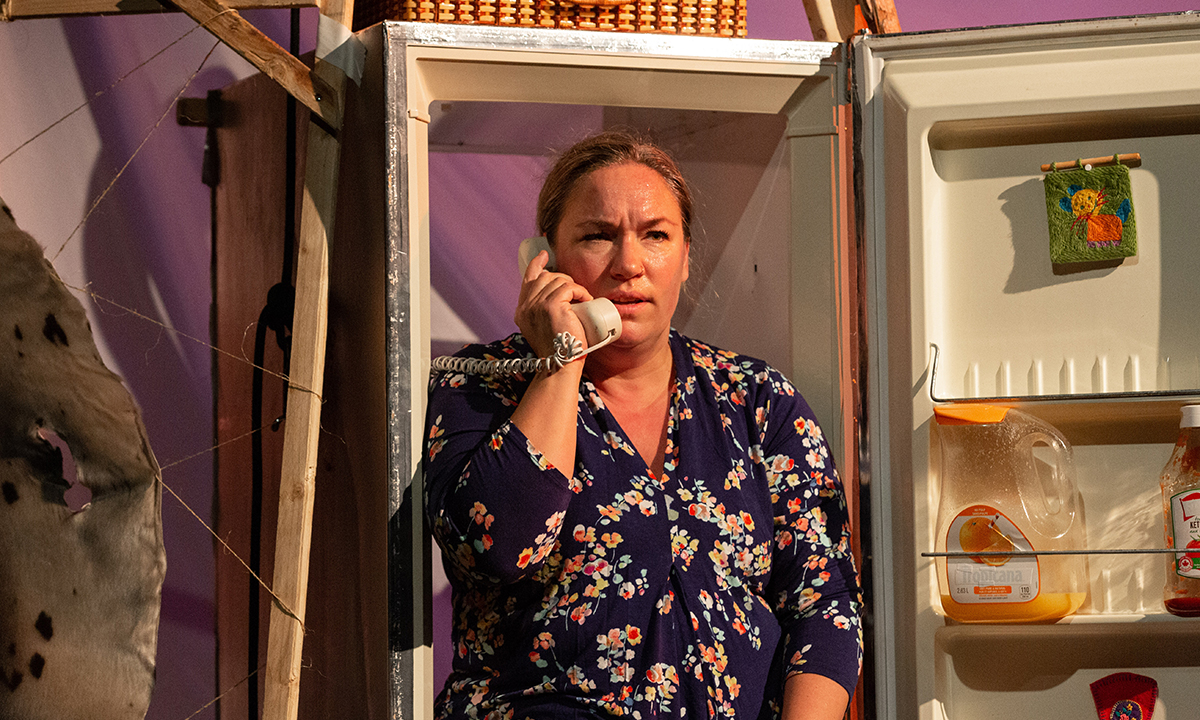 Sylvia Cloutier (Indigenous Artist in Residence, 2020, Kuujjuaq, Nunavik) performing in HUSH, October 2020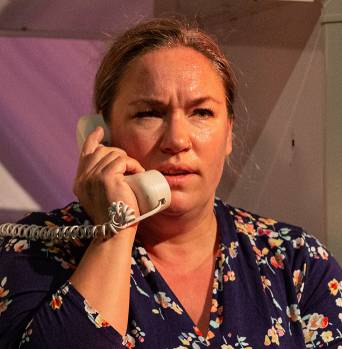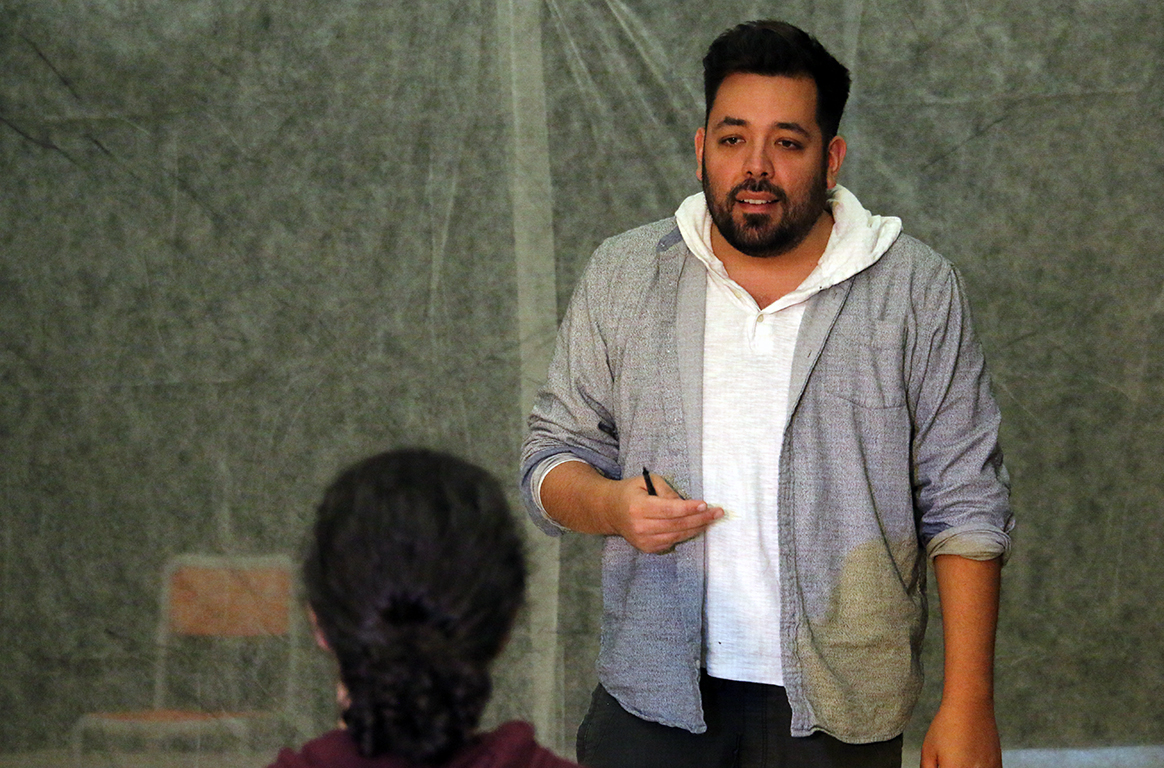 Jimmy Blais (Indigenous Artist in Residence, 2019) in rehearsal for Sonny's Way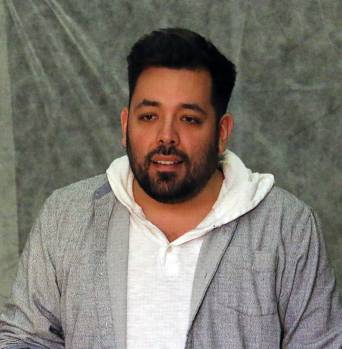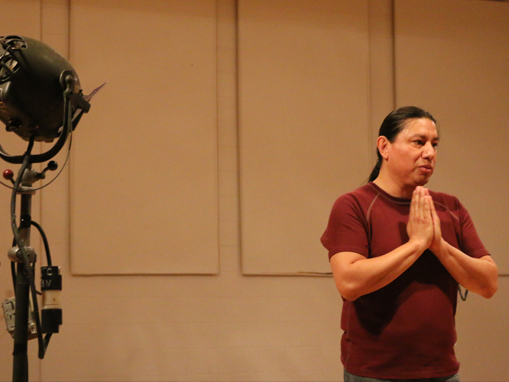 ''Theatre and dance and music have always been in Indigenous communities. So to be able to get the skills and to be able to do it, using contemporary language, is really important, and to share with all the cultures what we are coming from, and to see the potential of the stories, all stories, our stories.''
- Carlos Rivera Martìnez, Indigenous Artist in Residence, 2018, Mexico, of Nahua and Mixteco descent, supported by Cole Foundation
''As an Indigenous artist-in-residence at NTS, I am learning a lot about myself. I have time to reflect on my art, my work, how I approach things, but I am really actually just learning my own voice. And to be able to give myself the time to do what is really valuable. There is a tremendous amount of resources that are here, whether in the form of a space, teachers or mentors, or other students offering their opinions and views on things.''

- Jimmy Blais, Indigenous Artist in Residency, 2019, Muskeg Lake Cree Nation, supported by Conseil des arts de Montréal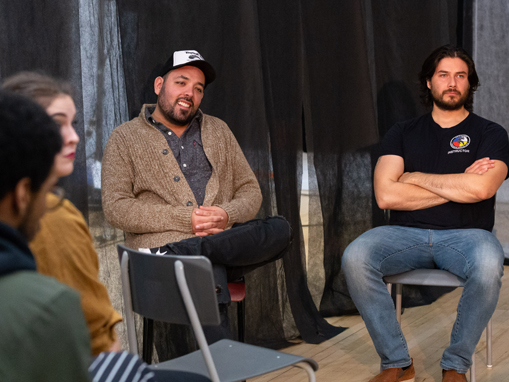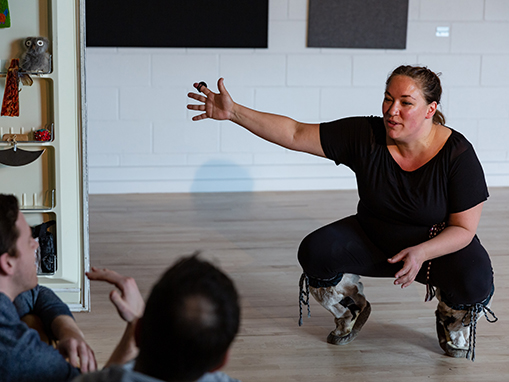 ''I really enjoyed developing as a performer. I never saw myself as an actor in any way, although I knew I am a performer. I love exploring myself as a singer, and taking part in the choir with the first- and second-years actors. I really enjoyed taking classes with the playwrights and the directors. Every day was different, every week was different, I really enjoyed trying new things, and reminding myself that I allow myself to see who I am as an artist.''
- Sylvia Cloutier, Indigenous Artist in Residence, 2020, Kuujjuaq, Nunavik, Inuq, supported by Cole Foundation