Turn your ideas into works for the stage
This class gives practical instruction on the basics of playwriting including plot structure, dialogue and character. Although the focus will be on theatre, this course is useful to writers in all disciplines: fiction, poetry, screen writing. The class includes instruction, one-on-one feedback, as well as a public reading with actors.
No experience is required - all are welcome.
Register today!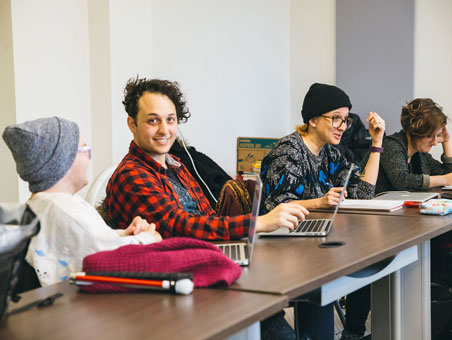 Workshop Description
OBJECTIVES 
Introduction to basic skills a playwright uses to "begin", skills which are then transferable to any style of writing: form, structure, arc, stasis, etc.

Developing and applying concrete strategies to begin working, thus enabling students to move forward in future courses

How to source an idea and build on it using a small project

Discover and explore your "voice" and ideas using basic skills and small projects  

Develop respect for the craft and artistic rigour 
PRACTICAL INFORMATION 
Date : Sundays, February 3 to May 5, 10am to 1pm 

Lenght: 10 week, 3h/week
Language : English 
Type of workshop : weekend classes 
Venue : National Theatre School, St-Denis Campus 
PRICE : $300 + tax
CONTACT AND INFORMATION
Laurie-Anne Bergeron 
Arts engagement Coordinator  
514-842-7954, extension 132 
labergeron@ent-nts.ca