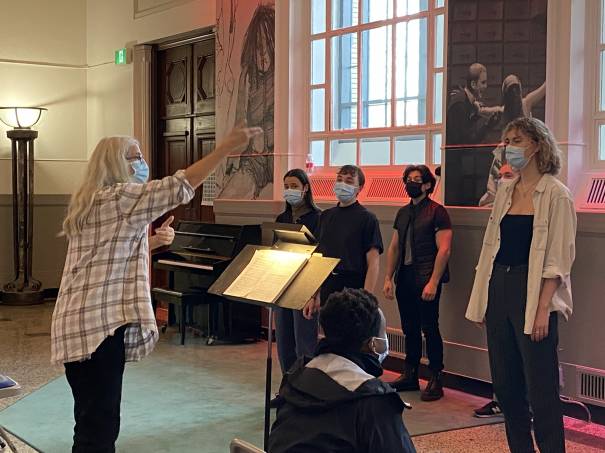 Voice Teacher
Established in Montreal in 1960, the National Theatre School of Canada (NTS) is the leading professional training institution for theatre artists in Canada. We are a place of learning, offering programs of the highest quality in English and French to actors, directors, designers, production specialists and playwrights.  
 

Apply now!
Context
NTS – a hub of intense and flourishing creative and practical activity is providing its carefully selected students with access to a wide range of approaches, work methods and expertise. We have developed our hard-earned reputation by promoting pedagogical practices that embrace tradition while also championing invention, that place equal value on both performance and creation, and that are constantly questioned and adjusted.  
Working from a position of impressive stability over the next few years, NTS is looking to renew its sense of purpose. With over 60 years of experience to guide us, we are striving to redefine the conservatory model we originated in Canada to meet the needs of our rapidly changing world. The new NTS will be more open, more inclusive, more diverse and more agile, while continuing to offer programs and experiences of great depth.  
 
We are determined to always look to the horizon, to understand the context and challenges our students will face as they begin their professional lives. We are constantly seeking new partnerships, innovations and outreach opportunities to increase our influence and contribute substantially to the advancement of the theatre arts. We celebrate our unique position as a national, bilingual School in Canada, and recognise our civic footprint in Montreal as one of our greatest tools for building engagement. We take great pride in our ownership of the Monument-National, which as it approaches 128 years of operation, is being reimagined as a centre for learning and creation that better reflects the values of our School.  
Duties and Responsibilities

The position of Voice Instructor is a contractual part-time position (approx. 9 months) in the Acting Program, reporting directly to the Program Director and Head of Core Curriculum.
The Voice Instructor (Teacher) teaches principles of voice work for the first-year actor. Content includes body work, breath work, and voice production as a foundation as well as, the principles of a vocal warmup to first-year students.
There may be opportunities for the Voice Instructor to serve as a voice coach, coaching voice, speech, dialect and text work in the second- and third-year students' performances. This coaching work entails attendance at rehearsals when required, monitoring of previews and some performances and tutorial sessions with actors as required by the production.
The Voice Instructor works closely with other voice instructors and Head of Music in coordinating work between vocal disciplines, as well as coordinating training with faculty in movement and providing pedagogical support to visiting project teachers and directors. The Voice Teacher attends weekly faculty meetings, completes student evaluations and participates in curriculum development. 
Requirements
The successful candidate will be an enthusiastic team player who is committed to supporting artistic and pedagogical initiatives. Bachelor's degree or equivalent required.
Candidates should have several voice pedagogies, be able to teach the Phonetic Alphabet, have experience in coaching or teaching dialects, and have a comprehensive knowledge of Shakespeare, including scansion, image and rhetorical structure. Ideally, candidates will have at least five years' teaching experience, and/or professional coaching experience.
The candidate is available for a minimum of 6 hours per week, between 9-12:30. Voice classes are scheduled in the mornings and coaching in the afternoons.  
 
Although the position is primarily English-speaking, a working knowledge of the French language would be an asset.  
 
This position is part-time, based in Montreal, between Sept 1st and May 1st.  
Application
Please send a detailed letter of intent with your résumé by May 23rd to  cv@ent-nts.ca with the subject heading Voice Teacher. 
We thank all applicants for their interest, however only those candidates selected for interviews will be contacted.
We are committed to providing a workplace that is inclusive and accessible to all and believe in the right to employability. That's why we support accessibility and employment equality; we encourage people of all ages, genders, sexual orientations, and ethnicity, as well as Indigenous people, people with disabilities, and people of colour, to apply.
Apply today!