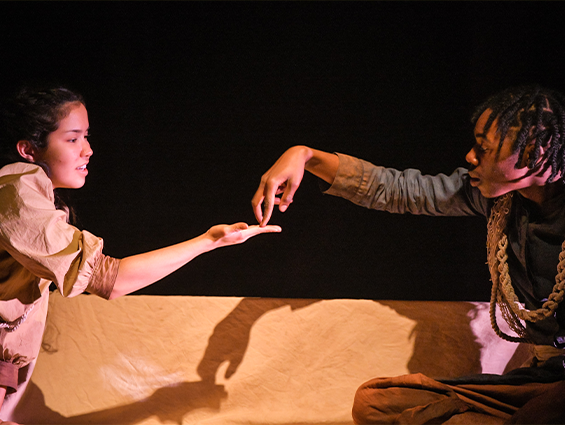 Project Manager – costume shop
This position has been filled.

The Project Manager will be responsible for realizing and supervising the realization of the costumes for several productions and will accompany the student designers in each of the steps (budget analysis, choice of fabrics, shopping, production of documents related to dressing, maintenance...).
Each Project Manager will be responsible for a certain number of projects and will assist the other Project Managers when possible.
He or she will provide pedagogical follow-up directly to the program director. He or she will hire the resources he or she needs to complete the project within the resources allocated for each production. The Project Manager will be expected to align his or her work with the pedagogy of all program directors, and specifically that of the Scenography program.
Apply now!
Responsibilities
Work in partnership with other project managers.
Develop strategies with the rest of the team to optimize shop operations and develop innovative projects.
Hire contractors (cutters, dressmakers, consultants) for their assigned shows.
Manage the fitting schedule (Chronos).
Help on other productions according to the pre-established schedule and availability.
Support students by helping them develop a work structure: organizing meetings, monitoring deadlines, prioritizing, offering advice, understanding production needs, understanding working relationships in a production, following up with documentation, etc.
Oversee the production process with the students.
Make/alter costumes for all assigned productions. (With occasional assistance depending on the project)
All other related tasks.
Profile
Relevant experience in costume making (sewing and/or alterations and/or cutting)
Experience in coaching or in the educational field (an asset)
Bilingualism: spoken and written English and French.
Excellent interpersonal skills and ability to build trust.
Work approach that is both human-centred and pragmatic.
What we offer
A caring, dynamic and motivating work environment; 
A competitive salary with an agile work schedule; 
An advantageous number of vacation days, plus two paid weeks during the holidays, with statuary holidays are honoured; 
A comprehensive group insurance plan, employee assistance program and telemedicine;  
A very advantageous defined benefit pension plan; 
A free parking space at the Saint-Denis pavilion; 
The privilege of working daily with a dedicated team, exceptional artists from across Canada and over 170 talented students; all in a bilingual, diverse and inclusive work environment!
Application
Please send your CV and motivation letter to jasminlouisseize@monumentnational.com
We thank all applicants for their interest, however only those candidates selected for interviews will be contacted.
We are committed to providing a workplace that is inclusive and accessible to all and believe in the right to employability. That's why we support accessibility and employment equality; we encourage people of all ages, genders, sexual orientations, and ethnicity, as well as Indigenous people, people with disabilities, and people of colour, to apply.
Apply today!