The National Theatre School of Canada (NTS) believes in employment equity and is committed to providing a workplace that is inclusive and accessible to all. For NTS, it is imperative that the diversity of our community be reflected in our staff, who must likewise be comfortable working with and for people of all walks of life. We strongly support the right to employability and greatly encourage applications from Indigenous people, people of colour, and those of all other ethnic and cultural affiliations, regardless of age, gender, sexual orientation, and disability.
IT Support Agent - Level 1
This job offer is closed
The National Theatre School (NTS) is actively seeking an IT support agent who is interested in working in a dynamic cultural organization. This is a new position and, as such, it represents an ideal opportunity for someone who wants to take on significant challenges and build new practices within the School. It is a permanent, full-time position involving 35 hours per week.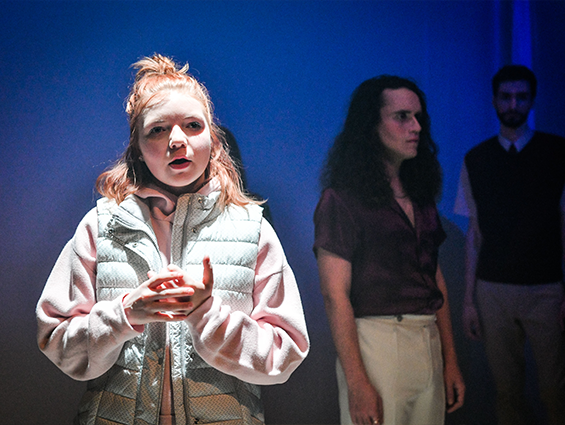 Responsibilities
Reporting to the IT Manager, the incumbent is responsible for providing first-line technical assistance to all company customers experiencing difficulties with computer hardware, applications and communications software. This person assists users by telephone or in person and ensures a high level of customer satisfaction.
Follow up with users to identify, document and resolve technical issues;
Advise users in response to the difficulties they experience;
Provide quality customer service at all times;
Collect data, organize and maintain written technical documentation of issues and solutions for use by other technical support staff;
Install, configure, update and support workstations and peripheral devices;
Record all actions related to incidents and ensure ongoing follow-up with users;
Assign the issue to the right technical group according to the diagnosis and ensure follow up;
Perform any other tasks as assigned.
Profile
DVS, ACS or DCS in computer science or equivalent experience;
2 to 3 years of experience in a similar position;
Excellent customer service skills;
Good knowledge of Windows 10 and Microsoft 365 (formerly Office 365);
Good knowledge of maintenance and physical repair of computers of all kinds;
Knowledge of Windows Server 2019, Microsoft Azure and Mac OS and IOS systems (an asset);
Bilingualism, spoken and written;
Self-sufficiency, excellent organizational skills and ability to meet deadlines;
Exceptional talent for collaboration and teamwork;
Open-mindedness and global vision at all times;
Strong interest in the cultural sector.
What do we offer ?
A caring, dynamic and motivating work environment;
A competitive salary and flexible working hours;
A generous number of leave days, as well as two paid weeks during the holiday season and extended statutory holidays;
A comprehensive group insurance plan, an employee assistance program and telemedicine
A very advantageous defined benefit pension plan;
Free parking at the Saint-Denis pavilion;
The privilege of working daily with a dynamic team, exceptional artists from across Canada and over 170 very talented students in a bilingual, diverse and inclusive work environment!
How to apply?
This job offer is closed
We thank all applicants for their interest, however only those candidates selected for interviews will be contacted.
We are committed to providing a workplace that is inclusive and accessible to all and believe in the right to employability. That's why we support accessibility and employment equality; we encourage people of all ages, genders, sexual orientations, and ethnicity, as well as Indigenous people, people with disabilities, and people of colour, to apply.