About the event
Homecoming 2021 is a special event that brings together recent and past graduates from the National Theatre School, providing an opportunity for them to share their cherished School memories as well as their plans for the future. It is also when a Gascon-Thomas Awards are presented to two theatre artists who have distinguished themselves in one of the two award categories: Innovation and Lifetime Achievement. 
NTS has acquired a user-friendly, simple and social platform to host its virtual Homecoming.
The platform offered by Le Lab, Espace Créatif will allow you to fully enjoy the celebrations. After the main event on the stage, you will be able to discuss with your friends or other NTS alumni in the discussion sessions. You will also be able to have one-on-one meetings with other participants in the "Networking" section at all times.
In just one click, we will all be gathered!
2021 Schedule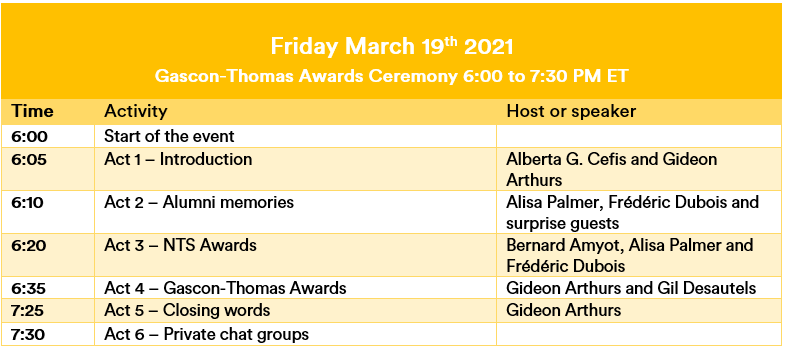 Please note that this schedule is subjet to change in the following weeks.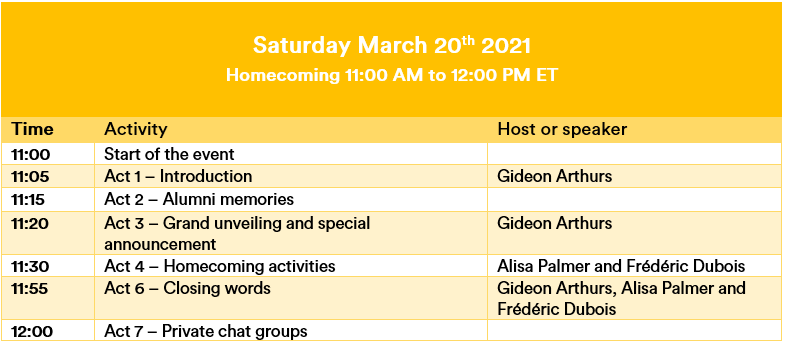 Please note that this schedule is subjet to change in the following weeks.
Recipients of the 2021 Gascon-Thomas Awards
The Gascon-Thomas Awards will be presented on March 19th 2021.
1. The Gascon-Thomas Award for Lifetime Achievement
The Gascon-Thomas Award for Lifetime Achievement is presented to a Canadian theatre artist who, throughout their career, has helped the theatre community evolve artistically. The selected nominee is an established artist who has earned national and international recognition and has contributed to Canadian theatre through their vast and important body of work.
2. The Gascon-Thomas Award for Innovation
The Gascon-Thomas Award for Innovation is presented to a Canadian theatre artist who has brought about a wave of change within their field. The nominee is selected for their ability to generate new ideas and for their efforts to improve upon current practices and/or approaches to making theatre. Innovation also refers to the attitude and social commitment underlying the artistic process. An artist who has had an impact on their social environment and makes theatre more accessible also demonstrates innovation by contributing to the growth and democratization of theatre.                                                                       
Lifetime Achievement Award: Yvette Nolan
Yvette Nolan, an Algonquin playwright, director, and dramaturg from Saskatchewan, was chosen for the Lifetime Achievement Award, not only for her incredible contribution to Canadian theatre, but also for her plays that have introduced characters with a distinctly Indigenous voice. These gripping and profound works bring to the forefront the grievances and issues experienced by Indigenous people in Canada and denounce social injustices that are still all too prevalent. 
Among her best-known works are Bearing, a dance-opera which tackles the repercussions of the Canadian residential school system, and Reasonnable Doubt, a piece of verbatim theatre that explores the relationships between Indigenous and non-Indigenous communities in Saskatchewan. She has also directed several major productions.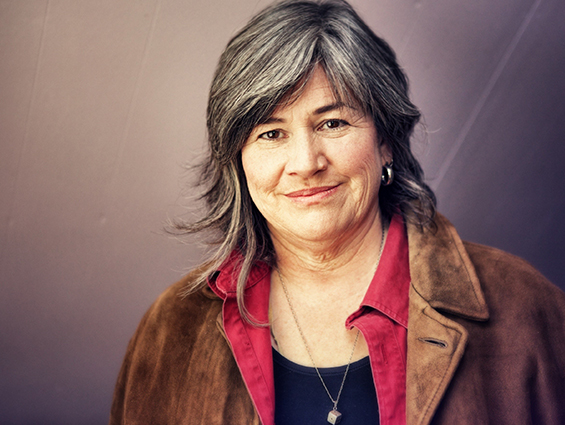 Biography
Yvette Nolan (Algonquin) is a playwright, director, and dramaturg.  
Since her first play, BLADE, Yvette has authored dozens of works, long and short, including Annie Mae's Movement, The Birds (a modern adaptation of Aristophanes' comedy), The Unplugging, and co-wrote Gabriel Dumont's Wild West Show. 
Recent works include Bearing, which she co-directed with Michael Greyeyes, is a dance-opera about the effects of residential school in Canada (Signal Theatre as part of the Luminato Festival); the opera Shanawdithit, for which she wrote the libretto and co-directed with Michael Mori (Tapestry Opera); the verbatim play, Reasonable Doubt, which she co-created with Joel Bernbaum and Lancelot Knight, is about relations between Indigenous and non-Indigenous communities in Saskatchewan; the play-for-film Katharsis (PTE); and the audio-play You Can't Get there From Here (Factory Theatre). She is currently working several new projects, namely Tapwewin, with Maria Campbell; Namwayut, with Marion Newman; and Sophia, with Tim Brady.  
Select directing credits include, The Penelopiad (Ferre Play Theatre); Michael Greyeyes' Nôhkom (Signal Theatre); Falen Johnson's Salt Baby (Globe Theatre); Map of the Land, Map of the Stars (w. Michelle Olson), Kenneth T Williams' Café Daughter, and Leonard Linklater's Justice (Gwaandak Theatre); Melanie J. Murray's Death of a Chief and A Very Polite Genocide, and Marie Clements' Tombs of the Vanishing Indian  and The Unnatural and Accidental Women (Native Earth Performing Arts); The Ecstasy of Rita Joe (Western Canada Theatre/National Arts Centre); The Only Good Indian... and The Triple Truth (Turtle Gals).   
As a dramaturg, she has worked across Turtle Island on such projects as, Queen Seraphina and the Land of Vertebraat and Ultrasound, by Adam Pottle; Many Fires, by Charlie Peters; The Election, by Natasha Greenblatt and Yolanda Bonnell; bug, by Yolanda Bonnell; Ecstasy (film), by Cara Mumford; Little Badger and the Fire Spirit, by Maria Campbell; Chapter 21, by Starr Muranko and Confluence, the Raven Spirit Dance Society in Vancouver; In Care, by Kenneth T Williams; A History of Breathing, by Daniel Macdonald; and The Glooskape Chronicles, by Donna Loring.  
From 2003-2011, she served as the artistic director of Native Earth Performing Arts, Canada's oldest professional Indigenous theatre company. She is currently Artistic Associate at Signal Theatre and Sum Theatre's Company Dramaturge.  
Her book Medicine Shows, about contemporary Indigenous theatre in Canada, was published by Playwrights Canada Press in 2015, who also published, in 2016, Performing Indigeneity, which Yvette co-edited with Ric Knowles. 
She is currently pursuing a Master of Public Policy at Johnson Shoyama Graduate School of Public Policy in Saskatoon.  
Innovation Award: Mellissa Larivière
Playwright, director, and executive co-director of the //SAS// Laboratoire de création festival, Mellissa Larivière (Interprétation 2011) was chosen for the Innovation Award for her incredible commitment to the Montreal arts community, and for the relationships, partnerships, and groups that she has established thanks to her ability to bring people together and make theatre accessible to everyone, regardless of their origins, age, or milieu. Her radical voice is rooted in change that has allowed many up-and-coming artists with a strong desire to create, take their first steps onto the stage and start to build a network of contacts in the Quebec theatre world.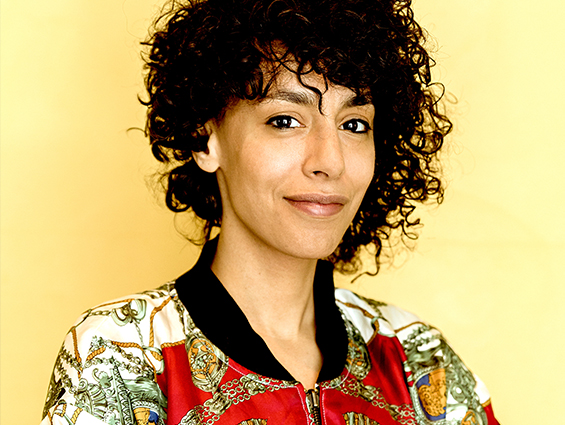 Biography
Graduate of the National Theatre School of Canada (Interprétation, 2011), playwright, director, actor. Mellissa Larivière was the founder/artistic and general director of ZH Festival, a major summer testing ground for Montreal's emerging artists from 2009 to 2020. In 2021, ZH Festival concluded its 12-year run by becoming //SAS// Creation Laboratory. Melissa is co-founder, artistic coordinator as well as artistic and general director of the //SAS// Festival, which champions Montreal's live arts scene. Since 2017, she has occupied the role of artistic programs consultant for Usine C. 
From 2016 to 2019, Mellissa was part of Dena Davida's advisory committee for Tangente Danse programs. From 2018 to 2019, she was also member of the board of directors for Tangente, a major player in the contemporary dance scene.  
In addition, Mellissa has sat on various juries (MAI, DAM, CCOV, DémART–MTL), including the National Theatre of Canada's audition jury (2019-2020); she was a member of the Conseil des arts de Montréal's jury committee for interdisciplinary programs and new artistic practices (2015-2019) and of the steering committee for the first Chantier Féministe on the position of women in theatre, Esapce GO (2018-2019). 
Mellissa was awarded the Conseil québécois du Théâtre's Prix Sentinelle (2018), which serves to highlight her commitment to the theatre arts community and her involvement in the advancement of theatre arts in Quebec. Under her guidance, ZH Festival earned the 2014 Prix de la relève – Conseil des arts de Montréal / Caisse de la Culture – which recognizes initiatives that improve conditions for emerging artists. 
ZH Festival was a finalist in the 34th Grand Prix du Conseil des arts de Montréal (2019), in recognition its vibrancy that makes it a hub for the emerging performance scene. ZH Festival received top honours by wining the Prix du jury at the 34th Grand Prix du Conseil des arts de Montréal (CAM). 
As an actor and creator, Mellissa has been involved in several live arts creations and laboratories, and has been recognized for initiatives that have led to the greater visibility of artistic innovation. She collaborated with Vincent de Repentigny and Rébecca Déraspe in the direction of Ceci est un meurtre, part theatre performance, part immersive experimentation, which was put on by endoscope.collectif at the Théâtre Aux Écuries in 2015. She also participated in the direction of, and performed in, PAN///POP///R// (fantasmagorie sur Léon Thérémine) that was presented at the OFFTA in 2014. She was part of the cast in Le reste vous le connaissez par le ciméma, by Christian Lapointe, which was staged at Espace GO and the National Arts Centre (NAC) in 2018. She authored and presented Écorchure sur bras inerte at the 2019 Festival du Jamais Lu. She was also creator and curator of the new performance and choregraphic dance series, BODY ELECTRIC à l'Usine C, in 2019.  
In 2020, she performed in the interactive audio piece, Ensemble, a DeBunker production presented at Espace Libre in collaboration with the borough of Ville-Marie.
Mellissa has been actively involved in various other committees, including an external committee for a Diversity Indicators project (IDD) in the Ville de Montréal's Department of Culture; OFFTA's artistic programs committee, 2021; the Equity, Diversity, and Inclusion Advisory Committee (EDIAC) for the National Theatre School of Canada (NTS), 2021; selection committee for the planning of large-scale projects (grande forme) produced by Centre O Vertigo (CCOV), 2021; and jury member for Parcours Danse, 2021. 
In addition to the above, Mellissa is a member of the artistic direction team (2021–2023) for CUBE, a centre for research and creation in theatre for children and youth.  
Mellissa also launched Collectif MÉ, for which she authored and is directing the collective's first creation, Main Coon, an artistic exploration of intimacy, between its virtual existence and fragile realities, seen as an absurd merry-go-round driven by the confused inertia of a melancholic fantasy world. Maine Coon will be staged at the Théâtre d'Aujourd'hui's Salle Jean-Claude Germain in October 2021. 
Selection comittee
Here is the selection committee for the 2021 Gascon-Thomas Innovation and Career Award:
Gil Desautels, President of the Committee
Margaret Martinello-Magner, Governor
Marie-Hélène Falcon, Artistic Director and Recipient of the Gascon-Thomas Award in 1998
Gideon Arthurs, CEO, NTS
Frédéric Dubois, Artistic Director of the French Section and Program Director of the Interprétation Program
Alisa Palmer, Artistic Director of the English Section and of the Acting Program
Audrey Dwyer, Associate Artist, Directing Program
Catherine Gadouas, Singing Teacher, French Section
Memories from previous years
Discover in pictures the highlights of this event that brings together members of NTS family each year.