The National Theatre School of Canada (NTS) believes in employment equity and is committed to providing a workplace that is inclusive and accessible to all. For NTS, it is imperative that the diversity of our community be reflected in our staff, who must likewise be comfortable working with and for people of all walks of life. We strongly support the right to employability and greatly encourage applications from Indigenous people, people of colour, and those of all other ethnic and cultural affiliations, regardless of age, gender, sexual orientation, and disability.
Cultural Mediation Manager
Reporting to the co-directors of the Monument-National Campus, the Cultural Mediation Manager will be called upon to creatively develop cultural mediation projects in various forms.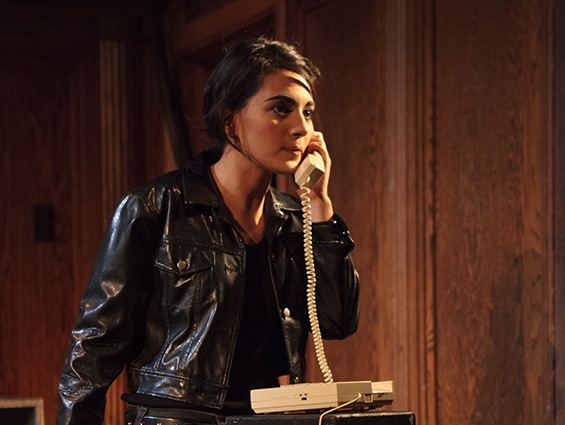 The Challenges
As part of our team, the successful candidate will:
Participate in the ongoing changes and the implementation of innovative processes;
Contribute to maintaining frank and open exchanges that promote team cohesion and efficiency;
Participate in the team's efforts to create an inclusive and caring professional space;
Promote the view that theatre brings people together and allows them to imagine, think and feel collectively.
Responsibilities
Develop cultural mediation projects;
Coordinate cultural mediation activities with community organizations;
Facilitate organized activities, as needed;
Compile, document and disseminate event statistics;
Keep the cultural mediation development report up to date;
Profile
Degree in cultural animation and research or any other field relevant to the position;
Good knowledge of the community environment and the performing arts;
Resourcefulness, judgment, self-sufficiency;
Strong ability to work in a team;
Proficiency with the Windows 365 environment;
Command of French and English, spoken and written;
Excellent organizational skills.
Employment Conditions
20 hours per week, flexible schedule;
Duration of employment: temporary (approximately 30 weeks);
Salary according to the salary scale in effect.
How to apply?
Application deadline: September 30, 2021
Start date: as soon as possible
Please send your CV and cover letter to cv@ent-nts.ca
We thank all applicants for their interest, however only those candidates selected for interviews will be contacted.
We are committed to providing a workplace that is inclusive and accessible to all and believe in the right to employability. That's why we support accessibility and employment equality; we encourage people of all ages, genders, sexual orientations, and ethnicity, as well as Indigenous people, people with disabilities, and people of colour, to apply.
Apply now!