The National Theatre School of Canada (NTS) believes in employment equity and is committed to providing a workplace that is inclusive and accessible to all. For NTS, it is imperative that the diversity of our community be reflected in our staff, who must likewise be comfortable working with and for people of all walks of life. We strongly support the right to employability and greatly encourage applications from Indigenous people, people of colour, and those of all other ethnic and cultural affiliations, regardless of age, gender, sexual orientation, and disability.
Reporting to the Head of the Costume Workshop, the Costume Shop Assistant helps to ensure the smooth running of the workshop. The assistant supports students and performs various teaching-related tasks, as required by the Director of the Set and Costume Design Program. NTS favours a multifaceted pedagogical approach to allow students to learn different ways of doing things.
Apply now!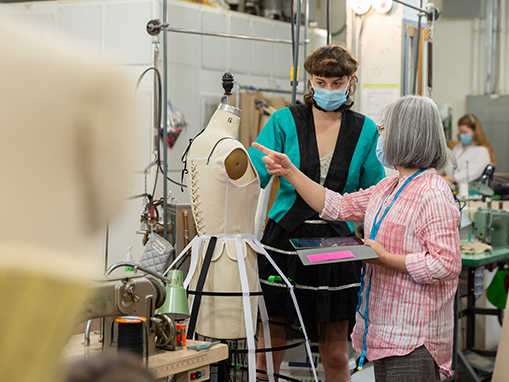 Responsibilities
The Costume Shop Assistant:
Helps to provide students with the appropriate equipment and guidance so that they can learn, experiment, and develop conceptual thinking;

Prioritizes Monument-National resources to support student training, while ensuring that these resources are properly maintained or renewed.

Contributes to the students' intellectual, artistic, and personal education by helping to instill in them a passion for learning and fostering their development as artists;

Uphold the Schools artistic and pedagogical vision for all programs as well as different theatrical approaches and practices.
More specifically, the assistant must:
Coach students and help them meet the needs of the various productions;

Occasionally, and as required, act as a resource person for students when other departments (props, sets, etc.) are in need of costume-related expertise or help with the use of fabrics;

Show flexibility and be able to adapt to a variety of production needs.

Help make costumes for student productions;

Manage supplies donated to the shop;

Ensure the smooth daily running of the shop by maintaining the materials needed;

Ensure purchase orders are signed by the Head of the Costume Workshop, place orders, verify quality and quantity of material delivered, and approve verified invoices;

Secure and handle petty cash appropriately;

Assist with "big set" and "studio" productions at the M-N;

Assist the Head of the Costume Workshop: Analyze costume prototypes and costumes, as required; Sample fabrics; Find rentable costumes available via other institutions; During costume fittings.

Ensure fabrics, accessories, and costumes are recovered in a sound manner;

Ensure the proper and safe use of the premises and equipment;

Promote the School's regulations and policies, particularly in learning assessments (Policy on the Evaluation of Student Achievement), and harassment prevention;

Encourage students to always conduct themselves in a professional manner;

Act in a fair, impartial, and respectful manner with students at all times.

Undertake any other responsibilities and duties associated with the position.
Qualifications
Familiarity with academic environments and strong teaching skills applicable to students and the NTS community;

At least 5 years of experience in the theatre field and proven success with supporting evidence of past achievements;

Written and oral proficiency in French and English;

Good communicator with the ability to build trust and pass on knowledge;

Openness to others and different view points;

Excellent interpersonal skills along with a good sense of initiative, problem solving, judgment, creativity, rigour, diplomacy, autonomy, integrity, resourcefulness, humour, and stress management;

Ability to work under pressure (meet production deadlines);

Ability to engage effectively with students, artists, and teachers alike;

Familiarity with the cutter's job, an asset.
This is a permanent, seasonal, full-time position, from Monday to Friday, with occasional presence required outside of regular hours. The employment period is of approximately 39 weeks, from mid-August to mid-May, and requires full availability.
How to apply?
Please send your CV and motivation letter to cv@ent-nts.ca
We thank all applicants for their interest, however only those candidates selected for interviews will be contacted.
We are committed to providing a workplace that is inclusive and accessible to all and believe in the right to employability. That's why we support accessibility and employment equality; we encourage people of all ages, genders, sexual orientations, and ethnicity, as well as Indigenous people, people with disabilities, and people of colour, to apply.
Apply now!