2022 Graduation Awards
The Tullio Cedraschi Award was established in 2007 in order to acknowledge the student who best exemplifies the vision and values of the School; a person who will be part of a broad and diverse community of Canadians that will ensure that the performing arts continue to play an important role in society. This year two students from the French section and one student from the English section tied for the prize.
The recipient of this award is a force to be reckoned with. Within her class she is a leader and provides a foundation of strength, diligence, and care. She is a gifted stage manager who can understand the needs of the room, schedule multiple activities in multiple venues, manage a team of assistants, communicate with designers, actors, directors and a team of production personal with kindness and steadfast determination.
She embodies the values of the school and the PDTA program with her rigour and her understanding of the importance of teamwork in the creative process. She supports her peers and their work, she pushes them to do better, but is also compassionate when that is out of reach. She speaks up when we can do better and holds people accountable to their word. Wei Qing leads by example and all students are drawn to her work ethic and her compassion. Her strength of character drives her work and I know she is deeply admired by students, teachers and coaches alike.
Congratulations to Wei Qing Tan (Production Design and Technical Arts, 2022)!
His kindness, his benevolence, his relaxed demeanour and his cheerfulness have coexisted from the start with an exemplary thoroughness, an acute intelligence and an astounding creativity. He's funny, he's unifying, he's soothing. He is a seeker who loves to learn, and perhaps that's why he first chose to train as a journalist before coming to the School.
This gentle nonconformist makes a racket in his head and leaves it to others to imagine the noise. With his feet firmly planted in his famous fish-shaped sandals, he makes a racket on his keyboard, also. He once uttered this sentence, which says it all about him: "To write a character is to put your heart into another mouth."
Congratulations to Thomas Dufour (Écriture dramatique, 2022)! 
Despite his young age, this student stands out for his excellence. From his first year, he has been actively involved and shown maturity and excellent listening skills. He is always willing to put his talent at the service of others, no matter the project. He is also always generous with his time, knowledge and, of course, equipment, which he stores with care in the garage of his family's home.
Congratulations to Zacharie Filteau (Création et production, 2022)!
---
The Bernard Amyot Teaching Awards were created to recognize the contribution of new faculty members to the revitalization and renewal of the School and their positive impact on students and their work.Given annually to two teachers newly hired by the National Theatre School with no more than 3 years of teaching experience here at the School. One recipient per section will be chosen, one from the French section and one from the English section.
A newcomer to the Playwriting Program, this instructor has made her mark as an attentive, compassionate, and practical mentor. She provides sound advice and ongoing support to every student in the Program. Her role preparing them for the professional world begins in one-on-one meetings in first year and culminates in the grant-writing course in third year - a very successful addition to the Program that helps graduating students transition from school to work. A graduate of the Playwriting Program and a working playwright herself, she intimately understands the needs of students and the struggles of playwrights, and draws from her own experiences to guide the students. Accomplished, thorough, patient, and wise, we count ourselves lucky to have her. Today, on the twentieth anniversary of her own graduation, we want to express our gratitude for her wholehearted commitment to the School and its students.
Congratulations to Marie-Leofeli Romero Barlizo (Playwriting teaching artist and alumna, 2002)! 
He has only been teaching in the Production Design and Technical Arts program for a few years, but he has already had a significant influence on his students.
His very human-centred pedagogical approach based on interaction helps to build trust from the outset. He helps his students navigate computer-assisted technical drawing, and with his meticulous eye for artistic detail, pushes them to perform at a high level in this area. For some, he has become a mentor who has calmly and kindly supported them during their first year, especially during Théâtre Idéal. With this award, we would like to acknowledge his commitment and the quality of his teaching.
Congratulations to Xavier Côté (Création et production teaching artist)! 
---
The Ada Slaight Prize is awarded to a graduating student in any discipline who demonstrates leadership and empathy in working with colleagues of both the French and English sections of the School.
Recipient: David Noel
He arrived with incredible energy, with his heart and arms completely open.
To him, everything was a game, but everything was also taken very seriously. He embraced his learning and contributed to the school's philosophical and ethical discussions by being on the student committee and taking part in every conversation in the cafeteria.
He knew how to get involved by being helpful yet critical, and never defensive or stubborn, in a great desire to understand and improve that which deserved to be transformed.
In his second year, he wrote a text defending all the redheads in the world. And he was right.
Congratulations to David Noël (Interprétation, 2022)! 
Left to right: Xavier Côté (Création et production teaching artist), David Noël (Interprétation, 2022), Marie-Leofeli Romero Barlizo (Playwriting teaching artist and alumna, 2002), Wei Qing Tan (Production Design and Technical Arts, 2022), Zacharie Filteau (Création et production, 2022), Thomas Dufour (Écriture dramatique, 2022), Bernard Amyot (former chairman of the board), Alisa Palmer (Artistic Director of the English section), Gideon Arthurs (Chief Executive Officer), and Frédéric Dubois (Artistic Director of the French section)
Photo by Maxime Côté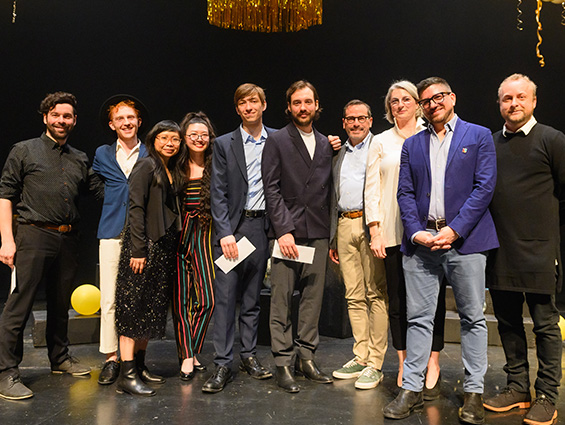 Posts in the same category